Links
Renee's Blog
Knitty Magazine
Knitty Coffeeshop
White Lies Designs
Bluebonnet Yarn Shoppe
Poetangel922
Feel free to take a button.

Complete Photo Gallery

Steenking Badges
Archives
August 2004
September 2004
October 2004
November 2004
December 2004
January 2005
February 2005
March 2005
April 2005
May 2005
June 2005
July 2005
August 2005
September 2005
October 2005
November 2005
December 2005
January 2006
March 2006
April 2006
May 2006
June 2006
July 2006
August 2006
September 2006
October 2006
November 2006
January 2007
February 2007
March 2007
April 2007
May 2007
June 2007
July 2007
August 2007
September 2007
October 2007
November 2007
December 2007
January 2008
February 2008
March 2008
April 2008
May 2008
June 2008
August 2008
September 2008
December 2008
February 2009
Site Feed
WIPs
for Mamash
for me
For Lori
FOs
Bluegreen Cowl for Conti
Blue HDC Gianna Hat
Gatorgreen Brent Hat
Easter Bunny Barf Stole
Abuelita's shawl
Crocheted Fingerless Mitts
RedStone Burnished laceweight
RedBlue Woobie
Blue&Brown Monkeyshirt
Chanel Gianna jacket
Autumn Shawlette for Mary
Pink/Blue VLT Scarf
Groverpeel Kite Tail
Gail's Christmas Stocking
Mamash's Jaywalker Stole
Ceci's Christmas Stocking
Lace Insanity
Sophia Elizabethan costume
jackolantern treat bag
Crocheted tentbag
Bucks Bar Handspun
Stitch Markers
Bloo Steering Wheel Cover
Brent Carseat Strap Cozies
Mickie's Socks
Robin Froofy Butt Scarf
Finger First Gloves
Crackie Pi Bed
Garter Martyr
Squareout Blanket
Pink Merino Handspun
Lace Prototype
Playdough handspun
Tick Tank v2.0
Shell pink handspun
Bluefaced Leicester handspun
Gauntlets
100% mohair handspun
Laceweight wool handspun
Wavy
Kimono Pants
Booga Bag
Hot pink superwash handspun
Sky blue mohair handspun
Lustersheen Kimono
Palanca Handspun
Domino Potholder
Moebius Red Scarf
NZG Capelet
NZG Hat
Green/Gold Lumay Scarf
Clauie Eyelash Scarf
Red Top Down Hat
Scribble Lace Scarf
Navy Blue Scarf&Hat
Abuelita Scarf
Leather Wallet
Panda Stitch Markers

Monday, February 02, 2009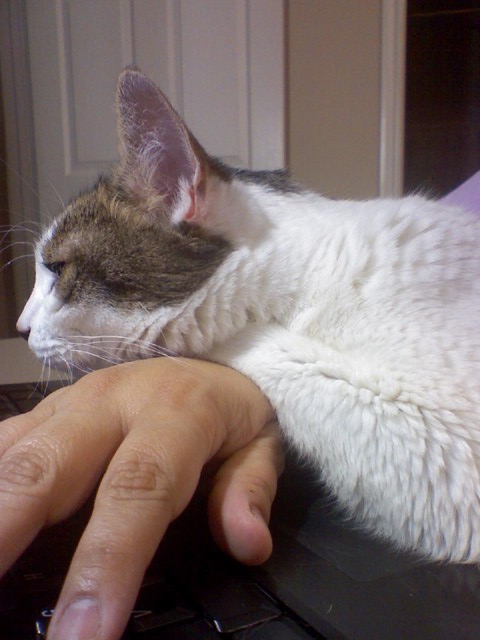 Apparently, my cat has decidedthat my typing requires his personal supervision. He has taken to laying across my arms when I'm at my laptop, making typing an...interesting challenge. So please pardon any typos you see in this post. I'm not making them on purpose. Honest.
Knitting: I actually feel like I accomplished something since Christmas. I finished ... let's see ... two cowls, a crocheted shawl, a bumblebee surprise jacket...I think that's more FOs than in the entire past year all together. Wow. In progress, I have Mamash's Orenburg lace shawl, a worsted weight BSJ, and a darkside cowl for myself. The Cap shawl got frogged, I did some mah and realized I have less than 1300 yards and the pattern calls for 1700. Oops. So now i'm in the market for a good, unique shawl pattern that takes about 1250 yards. Faroese would be fabulous, 3/4 circle or square would be really nice too. I have one good prospect, but I can't find my copy of
Big Girl Knits
. Darnit.
Crochet: Mamash's pentagon shawl is moving slowly but surely. And I'm feeling the hankering to start some other crocheted project. I really ought to. One just isn't enough to keep my interest. Hm. I'll have to see what projects call to me.
Spinning: The Falkland on my lace spindle is still moving along slowly slowly but steadily. I have two full bobbins of wool that Robin dyed for me, and enough roving to fill a third. I'm planning on a true three-ply. It's my biggest endeavor to date.
Stitch markers: After sending out a newletter asking my customers if they like the photos I've been putting up (collages of 4 different shots of each marker) or if just one photo would suffice. Taking only one photo of each marker would sure save me a LOT of time. Well, after a few replies saying "One is fine!" that's what Iv'e started doing. And it's starting to show in the amount of inventory I have online now. And I have still more to assemble, so my work isn't nearly complete.
And now, feline domination of my computer is complete. Have to stop typing now. This is what I'm up against: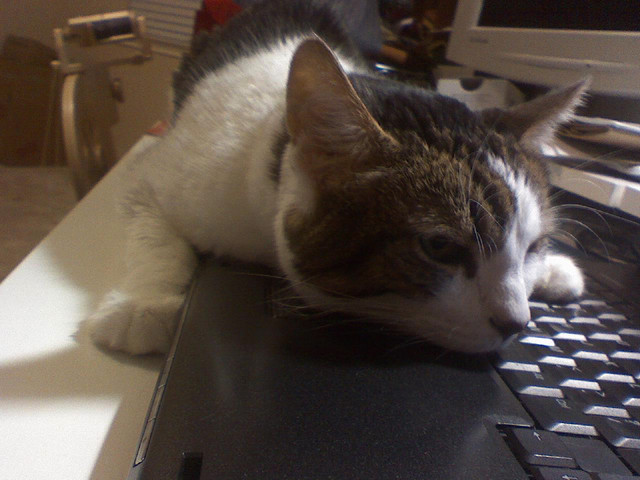 entrelac at 4:05 AM :: |


Friday, December 26, 2008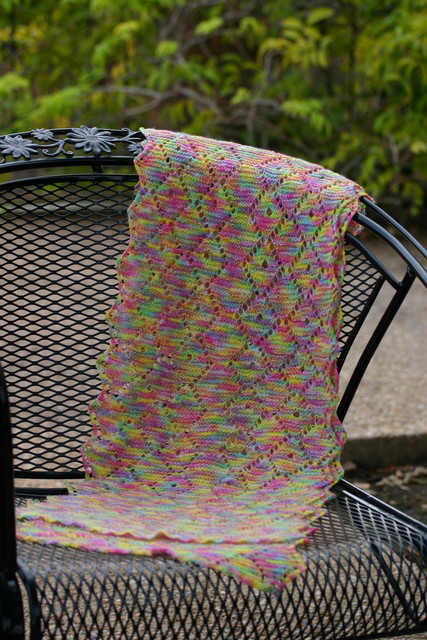 No, I don't have any good reasons for having gone so long without blogging. Call it plain and simple laziness or lack of motivation, it's true.

Knitting:

Actually have some good progress to report here. Finished the Easter Bunny Barf Scarf, pictured above. It grew so much in the blocking (and I didn't block it harshly!) that I'm now calling it the Easter Bunny Barf STOLE. Ceci loves it, which is exactly what wanted. Win. :)

Crocheting:

Also finally finished the Seraphina's shawl. Don't have any photos of it yet, though, 'cause it still needs to be washed and blocked, and then I'm giving it to my Abuelita for (belated) Christmas when Ceci and the monkeys and I go to visit everyone in the Valley the first week of January. If nothing else, I'll be sure to get photos of her wearing it.

Spinning:

Progress here too. I moved another spindleful of Falkland singles off of ZoomZoom my laceweight spindle and am off again. Yes, this IS a long term project. I also finished spinning the Insubordiknits merino and plied it with Robin's logwood merino. Don't have any photos of it uploaded, though. Will get those soon. Also, plied together a skein of worsted/aran weight using my Kundert (as a bottom whorl) from one ply of Carolina Homespun and one ply of the neutral toned wool from Angelina that Susan from Yarnorama so kindly helped me card on her drum carder. I just...ahem... need to find the rest of the Carolina Homespun stuff so I can spin up more. Also finished a skein of Robin-painted merino that I plied with the 60 yds/gm superfine plying silk from Galina. Prettypretty stuff. Again, Susan from Yarnorama was helping me wind it off of my bobbin with her electric skein winder (yay no tennis elbow!) and it SNAPPED before the bobbin was empty. Even so, the one skein is easily over 1000 yards, and weighs less than 3 ounces. Go me!

Stitch Markers:

Going swimmingly as usual. I'm going to see if I can't do a major stocking at Etsy this weekend, all of the pre-packed sets that didn't sell at the HCW Fiber Fest thing a couple of weekends ago. And, before the end of the year, I'm going to possibly change the way I present the items available in my online store, 'cause taking 4+ photos for EACH different marker I make is starting to kill me.

Whew. That's it for now.

entrelac at 1:40 PM :: |


Saturday, September 13, 2008

Helen, thanks for asking about the pattern of the red and blue woobie. It's the Superhero Dreamcatcher Afghan, which I found through Ravelry.

Now, on to International Crochet Day! YAY!

I prepared for today, making sure I had only crochet projects with me. This is what I took with me to work along with a new ball of Jojoland Harmony: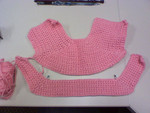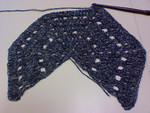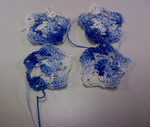 I set out ALL of my hooks so I could see them all day long: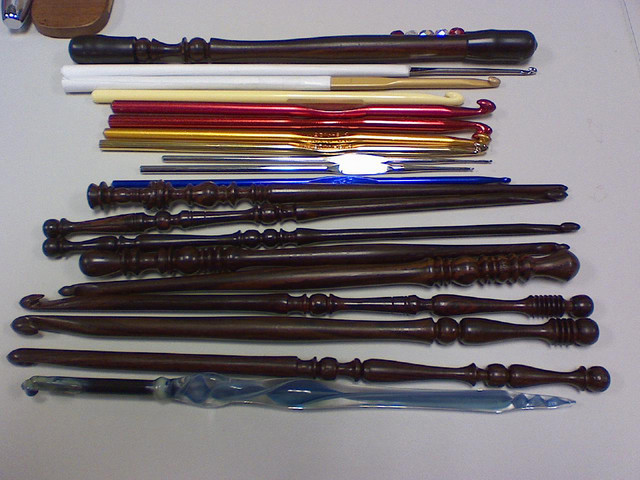 And of course, for the occasion, I tied up my hair a little bit differently.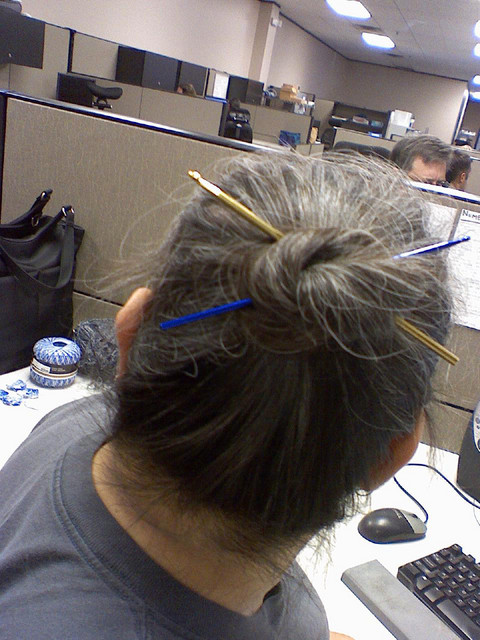 I told everyone who asked about ICD (and a few who didn't ask ;) ) and I worked on each project at least a little. Here's how the projects looked before I left for the day: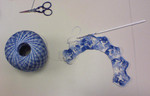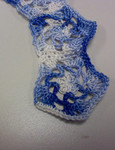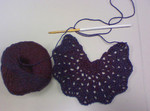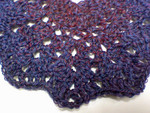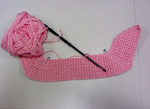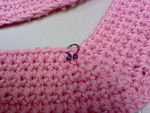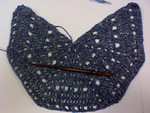 All in all, for a Friday (and a workday), I had a lot of fun. :D I hope you had a good International Crochet Day too!

entrelac at 2:57 AM :: |


Thursday, September 11, 2008

You okay? You didn't faint and fall down and hurt yourself, did you? I hope not. Anyway. I've actually managed to get a couple of things done, surprise surprise. Photos follow.

Crochet: I bought two skeins of Berroco Comfort DK just for the heck of it, to see how I felt about the yarn. Survey says... it's SERIOUSLY nice stuff. Here's what I made from the two skeins: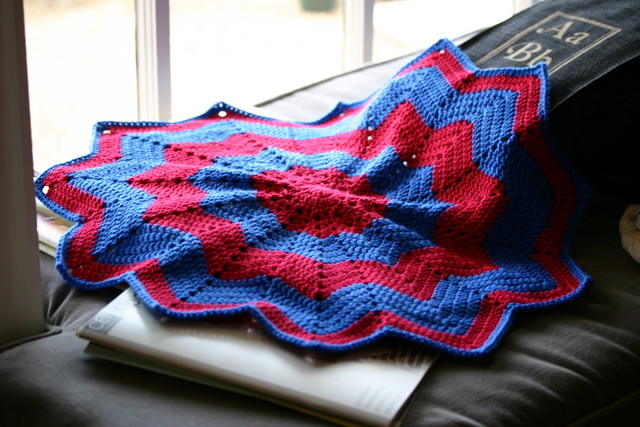 It's now a shop sample at Gauge, at least until some toddler latches onto it and won't let go. I can tell it's meant to be a woobie, and it's just waiting for the right kid.

Spinning: I FINALLY finished spinning up the burnished piece of the luxury sampler that

the Redhead

gave me in Estes Park. I wanted to maximize yardage, so I plied it with the plying silk I bought from Galina Khmeleva, also in Estes Park. Photos:

First, an in progress photo of the fiber on the spindle.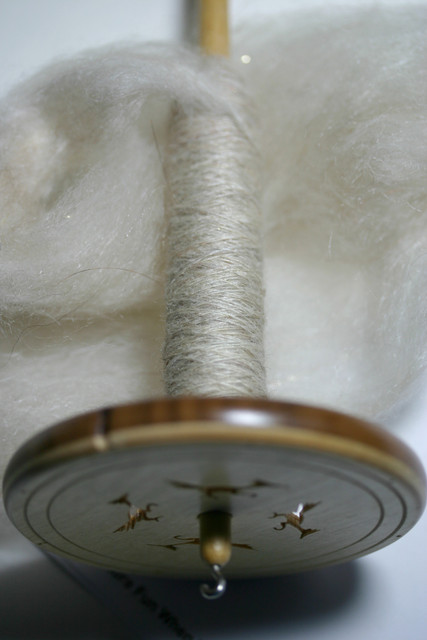 And now a photo of the finished yarn. Robin is going to set the twist on the yarn for me (I really need to learn to do it properly myself, but she's just so much better and faster at it than I am) and then send it up to the Redhead along with some other things.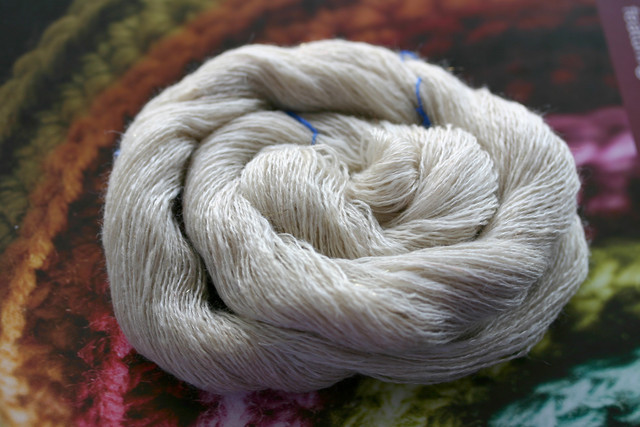 And a yarn pr0n closeup...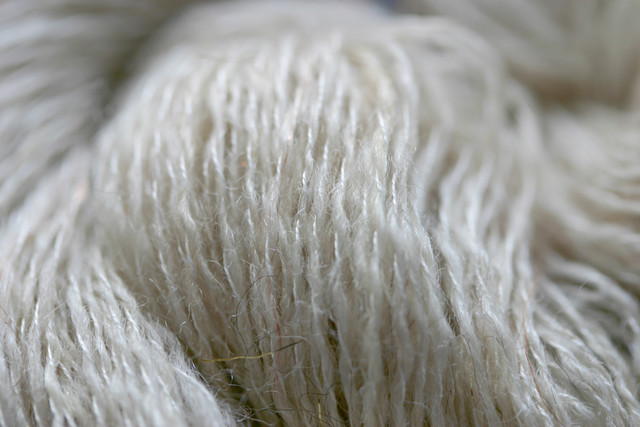 No knitting stuff to report, but I DID add some new stitch markers to my online store. That's it from me for now.

entrelac at 11:48 PM :: |


Thursday, September 04, 2008

Is it possible for the doldrums to be a human emotional state? Because if so, I am totally there. This sums up my feelings for the entire day: Bleh.

Knitting: Kind of taking a hiatus. Just not floating my boat at the moment.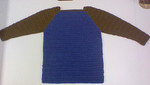 Crocheting: Has taken over the spot at the top of my bag, maybe because I can acutally finish crocheted projects. In the past two weeks I've completed a baseball jersey looking shirt for Brent nephew-monkey out of Cotton Ease (the new stuff is MUCH nicer than the old), and I'm almost done with a little pointy pointless thing from 2 balls of Berroco Comfort. Seriously nice stuff, and the price tag on the DK weight is a breath of fresh air. I'll post a photo when it's done. Probably tomorrow.


Spinning: I (finally) finished spinning the Red Stone Yarns Burnished sample chunk into a cobweb/laceweight single. I'm plying it with my insane-o plying silk, and in the majority of what I've plied so far the Burnished is the SAME thickness as the plying silk. I honestly didn't expect that. The plying is slow going, though, 'cause hyper-fine singles mean massive yardage for 1/3 ounce or however much it is. All other spinning is creeping along, even the Insubordiknits I have set aside for Lenny and I thought would keep me going because it's so pretty.

Stitch markers: They're there. What else can I say? I'm still slacking on getting them all photographed and uploaded, though I DID manage to get a few added to the Etsy store.


I'll leave you with one last photo. Mary, I think this is proof that your housewarming gift for Crackie is a hit. :)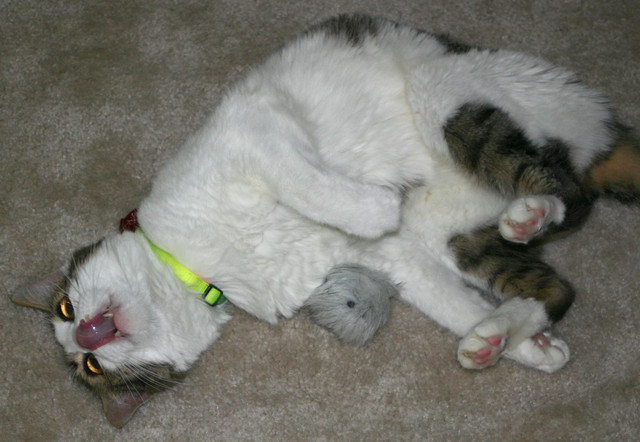 entrelac at 1:41 AM :: |


Friday, August 08, 2008

Please, come inside.


Please pardon that most everything is still in boxes...except Lenny and my yarn, of course.
Of course, the electronics are vital to existence, so they're set up and running already, though not in their final 'homes'.
My actual desk is over here on this other wall...and covered with STUFF and boxes right now.
Wondering why you haven't seen a bed yet? That's because it's over here. Yes, inside the CLOSET. Hey, it fits, so why not?
The chest of drawers will also fit in there, so it's essentially a tiny bedroom, with my actual 'room' becoming a sitting room of sorts. I really like this idea. Oh, and here's another bonus: I have my own (private) bathroom.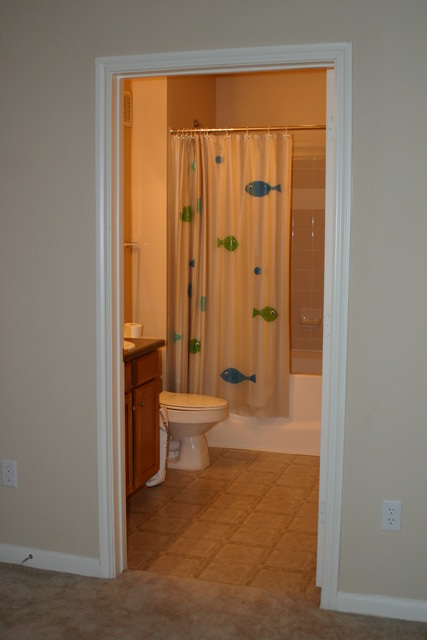 I really like the googley-eyed fishies on the curtain.
Oh, and Crackbaby? He made himself right at home REALLY fast.
See how at home he already appears to be? This makes me very happy.
Okay, enough photo-spam from me. I promise once this weekend is over and I'm done moving my stuff over I'll sit down and write out a nice, long, WORDY post. I'm sure you're ALL just waiting with bated breath for that one, huh? (not.) :D

entrelac at 12:56 AM :: |


Wednesday, June 18, 2008

There is too much to relate quickly, and I'm just not mentally with-it enough to type out a major long post. So, I'll sum up. (And add photos later. Bad Gallery. No cookie.)

Trip to Estes: fast, effortless. Bradshaw Cottages yet again wonderful beyond wonderful.

Thursday: Altitude sickness sucks. Galina Khmeleva is really fricking awesome. Chendra (aka TheRedHead) is also really fricking awesome. Connie is a total sweetheart.

Friday: Orenburg lace techniques are mind-blowing. Chendra is worse than awesome, she's an evil enabler!

Saturday: Wool Market is crazy-fun-hectic. Many people are really fricking awesome, the fleece Robin picked out to buy wins THREE ribbons in judging, and Chendra is the most evil of all evil enablers. I bought a spinning wheel because of her. But Galina said I should continue spindle spinning, 'cause it's "good".

Sunday: Slept late. Blissful. Robin and I drive up the mountain to see what there is to see, and knit at 12,000 feet. Then we crawl back down saying 'owie headache'. Went back to wool market to pick up Robin's judged yarn and shawl, spend the rest of my life savings, and get one more hug from Galina.

Monday: (happy birthday me!) Wake up painfully early, get back to airport, eat birthday chocolate cookie in airport, fly home with goofy funny flight attendant guy, slug about at Dad and Mamash's ('cause I forgot to bring a house key) until Ceci picks me up after work.

Tuesday: Dying of the plague. *sniffle* Colds suck.