Links
Renee's Blog
Knitty Magazine
Knitty Coffeeshop
White Lies Designs
Bluebonnet Yarn Shoppe
Poetangel922
Feel free to take a button.

Complete Photo Gallery

Steenking Badges
Archives
August 2004
September 2004
October 2004
November 2004
December 2004
January 2005
February 2005
March 2005
April 2005
May 2005
June 2005
July 2005
August 2005
September 2005
October 2005
November 2005
December 2005
January 2006
March 2006
April 2006
May 2006
June 2006
July 2006
August 2006
September 2006
October 2006
November 2006
January 2007
February 2007
March 2007
April 2007
May 2007
June 2007
July 2007
August 2007
September 2007
October 2007
November 2007
December 2007
January 2008
February 2008
March 2008
April 2008
May 2008
June 2008
August 2008
September 2008
December 2008
February 2009
Site Feed
WIPs
for Mamash
for me
For Lori
FOs
Bluegreen Cowl for Conti
Blue HDC Gianna Hat
Gatorgreen Brent Hat
Easter Bunny Barf Stole
Abuelita's shawl
Crocheted Fingerless Mitts
RedStone Burnished laceweight
RedBlue Woobie
Blue&Brown Monkeyshirt
Chanel Gianna jacket
Autumn Shawlette for Mary
Pink/Blue VLT Scarf
Groverpeel Kite Tail
Gail's Christmas Stocking
Mamash's Jaywalker Stole
Ceci's Christmas Stocking
Lace Insanity
Sophia Elizabethan costume
jackolantern treat bag
Crocheted tentbag
Bucks Bar Handspun
Stitch Markers
Bloo Steering Wheel Cover
Brent Carseat Strap Cozies
Mickie's Socks
Robin Froofy Butt Scarf
Finger First Gloves
Crackie Pi Bed
Garter Martyr
Squareout Blanket
Pink Merino Handspun
Lace Prototype
Playdough handspun
Tick Tank v2.0
Shell pink handspun
Bluefaced Leicester handspun
Gauntlets
100% mohair handspun
Laceweight wool handspun
Wavy
Kimono Pants
Booga Bag
Hot pink superwash handspun
Sky blue mohair handspun
Lustersheen Kimono
Palanca Handspun
Domino Potholder
Moebius Red Scarf
NZG Capelet
NZG Hat
Green/Gold Lumay Scarf
Clauie Eyelash Scarf
Red Top Down Hat
Scribble Lace Scarf
Navy Blue Scarf&Hat
Abuelita Scarf
Leather Wallet
Panda Stitch Markers

Wednesday, March 30, 2005
Why do I always post late at night? No idea. *shrug* Anyway.

I FINALLY finished spinning up all of the Palanca Farms wool I've had for....ten years? Click here or on the link in the FO list to the right to see a photo of the pile of skeins. I believe the final total is 19 or 20, with two teeny skeins from finishing off the spindles. The crochet hook and row counter were thrown on the pile as a size reference. I'm so glad to see the stuff done! Now I need to put it away for a while so I can stand to knit it up later.

Now for my random artsy-fartsy photo of the week: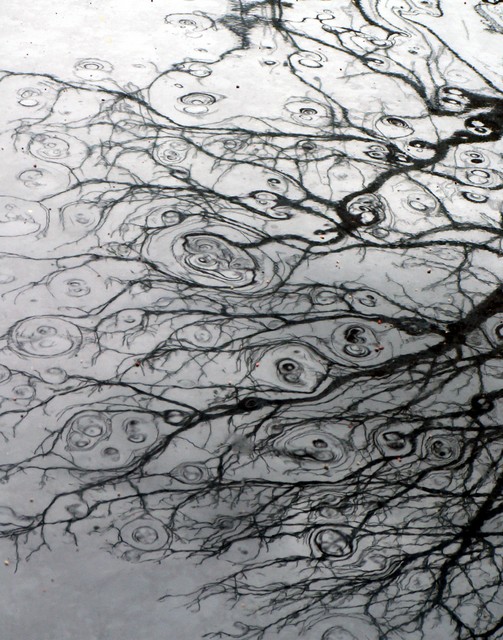 Who can guess what that is a photo of? And no, Monkee, it's not "branches". ;)
entrelac at 1:16 AM :: |


Saturday, March 19, 2005

Should've been asleep hours ago. Shame on me. Had to post quickly. Almost done with first skein of Cascade 220 on Wavy, just completed the...fifth repeat, I think. It's growing quickly, and I lost my printout of the pattern weeks ago. The only thing I still rely on is that little bit of light-colored thread. That tells me which side is the one where the ribbing shifts.


entrelac at 1:58 AM :: |


Monday, March 14, 2005

Peatbogfaery: Yes, those needles I'm using on Wavy are two different colors. One needle is ebony, the other is rosewood. I've yet to see another set like them. All of the ebony and rosewood sets I've seen/purchased since have had both tips the same. I love my needles.



Zilker Kite Festival - a lot of fun. Zero knitting time. My friend Sara and her daughter Danielle went with me and had more fun than I did.
To see more photos, go

here

and check out the entire album.

entrelac at 3:54 AM :: |


Saturday, March 12, 2005

Wow, I've actually made progress this week. Wavy is on the...fourth? repeat now, Angelina is almost three inches long, and my periwinkle roving is almost GONE. That is EXCITING. I've been spinning this stuff for years. Literally. The baby kimono hasn't moved, but it's been sitting here waiting for me. As fast as it knits up, I feel no stress.

Flash Your Stash: Wendy's starting a silly and fun little 'stash-along', getting everyone to photograph their yarn stashes. My stash would require at least...two photos to fit it all in. Ceci suggested I spread it out on the yard and photograph it from the roof for maximum impact. I don't know...

Zilker Kite Festival tomorrow! I can't wait! Of course there will be photos....and I've run out of stuff to say.

entrelac at 10:17 AM :: |


Thursday, March 03, 2005

I need to get to sleep earlier. Pfeh. I'll sleep when I'm dead. Submitted for your perusal, more photoage, this time of WIPs. See them all in my gallery over there behind the photo of my camera. (Yes, that is as silly as it sounds, a picture of a camera.) Here's a preview: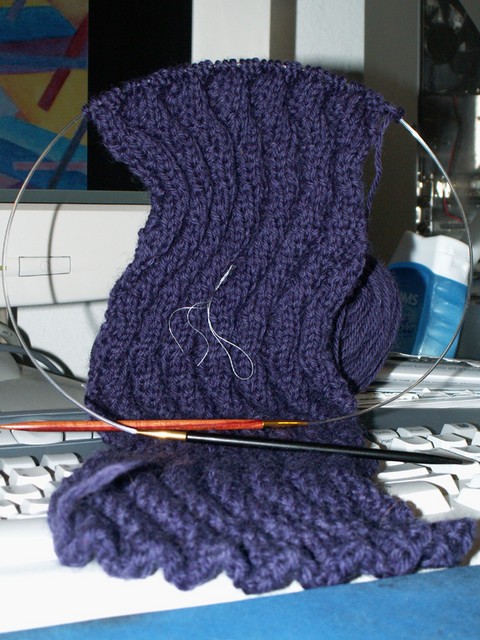 I'll work on getting them put behind the progress bar links over to the right....later.