Links
Renee's Blog
Knitty Magazine
Knitty Coffeeshop
White Lies Designs
Bluebonnet Yarn Shoppe
Poetangel922
Feel free to take a button.

Complete Photo Gallery

Steenking Badges
Archives
August 2004
September 2004
October 2004
November 2004
December 2004
January 2005
February 2005
March 2005
April 2005
May 2005
June 2005
July 2005
August 2005
September 2005
October 2005
November 2005
December 2005
January 2006
March 2006
April 2006
May 2006
June 2006
July 2006
August 2006
September 2006
October 2006
November 2006
January 2007
February 2007
March 2007
April 2007
May 2007
June 2007
July 2007
August 2007
September 2007
October 2007
November 2007
December 2007
January 2008
February 2008
March 2008
April 2008
May 2008
June 2008
August 2008
September 2008
December 2008
February 2009
Site Feed
WIPs
for Mamash
for me
For Lori
FOs
Bluegreen Cowl for Conti
Blue HDC Gianna Hat
Gatorgreen Brent Hat
Easter Bunny Barf Stole
Abuelita's shawl
Crocheted Fingerless Mitts
RedStone Burnished laceweight
RedBlue Woobie
Blue&Brown Monkeyshirt
Chanel Gianna jacket
Autumn Shawlette for Mary
Pink/Blue VLT Scarf
Groverpeel Kite Tail
Gail's Christmas Stocking
Mamash's Jaywalker Stole
Ceci's Christmas Stocking
Lace Insanity
Sophia Elizabethan costume
jackolantern treat bag
Crocheted tentbag
Bucks Bar Handspun
Stitch Markers
Bloo Steering Wheel Cover
Brent Carseat Strap Cozies
Mickie's Socks
Robin Froofy Butt Scarf
Finger First Gloves
Crackie Pi Bed
Garter Martyr
Squareout Blanket
Pink Merino Handspun
Lace Prototype
Playdough handspun
Tick Tank v2.0
Shell pink handspun
Bluefaced Leicester handspun
Gauntlets
100% mohair handspun
Laceweight wool handspun
Wavy
Kimono Pants
Booga Bag
Hot pink superwash handspun
Sky blue mohair handspun
Lustersheen Kimono
Palanca Handspun
Domino Potholder
Moebius Red Scarf
NZG Capelet
NZG Hat
Green/Gold Lumay Scarf
Clauie Eyelash Scarf
Red Top Down Hat
Scribble Lace Scarf
Navy Blue Scarf&Hat
Abuelita Scarf
Leather Wallet
Panda Stitch Markers

Tuesday, July 26, 2005
I'm here. I'm alive. Really. This past week or so has been...interesting. Tick is a very calm baby in comparison to what I'd been dreading -- it takes him a good few minutes of low-volume fussing without response (like when Ceci's struggling to warm up a bottle for him and he's hungry NOW) before he actually cries. And even then it's just little cranky noises. The ONLY time I heard him REALLY wailing was last night when I helped Ceci give him a bath. He was NOT happy about it and he made SURE the entire house knew. Even Reese, who used to look at him in distress at every little sound, just looked like she was tolerating the racket. All of the dogs have been so good around him. Reese will give Ceci kisses then gently sniff at Tick's head, Tyler begs for his bottles but of course won't get them, Hannah seems totally uninterested (but then she can't hear him either), and Crackbaby wasn't at all interested either...until Will put him in the rocker-thing. He was ENTHRALLED by the thing rocking all by itself, and Ceci and I watched in amusement as he slinked toward the rocker all wary-like. Then when it stopped to let Tick sleep, Crackie slinked RIGHT up to it and sniffed at him briefly. That's good in my opinion. For photos of the newborn cuteness, go to Ceci's blog. She has links there.

Sunday was massive amounts of fun. And I'm not being sarcastic! I went over to bestest knitting buddy Renee's apartment, and Sciencegrrl met us there! It was very cool! She was knitting on a freakin' GORGEOUS little sweater for her son. So many colors! And Renee, of course, was her knitting dervish self, having finished her first ever sock and in the middle of turning the heel on its mate and having finished knitting a pink ribby top for her older daughter Hannah and a little tank top for Tick -- both of which she wanted my help on seaming. Renee now knows the wonder that is matress stitch!

Knitting: Vebjorg sleeve #1 is finished, #2 is about 25% done. Gauntlets and Chenille languishing some more, lace prototype making slow progress. Photos of Vebjorg forthcoming. Eventually.

Spinning: 75% done spinning up the sky blue mohair from Monkee. Lovely lovely stuff, but a bit more VM than I'm used to in my rovings. I keep stopping to pick the stuff out. Yes, shame on me, I'm spinning the stuff up laceweight. I don't think mohair lends itself well to thicker singles. I'm still debating whether to ply it with itself, or with some undyed mohair I have in my stash, or leave it as singles, or what. Any suggestions from you more knowledgeable spinners out there?
entrelac at 7:10 PM :: |


Saturday, July 16, 2005

Testing a hypothesis.

Paul, now that I know you're lurking around my blog, I can post this photo I found totally by accident a while back. I'm willing to bet you'll see why it made me think of you.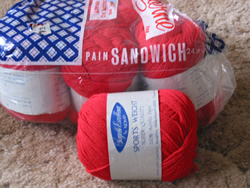 entrelac at 10:51 AM :: |


Friday, July 15, 2005

My, my, my. I made the mistake of idly browsing a blog or two. I stumbled onto a whole mob of snarking, hissing, ranting, maniacal, vehemently anti-Knitty people. And then, like a train wreck, I couldn't make myself stop reading. Yes, I will admit that I found their comments aimed at the Coffeeshop people personally hurtful. Now, I could stoop to their level and post a retaliatory rant full of foul language and venom against specific individuals I know nothing about, but I won't. That'll only give them reason to light their tampon strings again some more.

Yes, I am fully aware that a person's blog is their space to be as nice or as snarky as they want. After all, haven't I done my own share of snarking here? So I'll let them have their space to themselves, and blogspirit and Crafster too, whatever those are. If those places are populated by people like the few I ran across, I'll continue avoiding those places like horseradish(aka, some people may like horseradish, but it makes ME wish I were violently ill).

Enough. On to friendlier, fluffly clouds, pink flowers and bunnies kind of stuff...ew. Nevermind. That's even worse than crabby bitchy bloggers.


Knitting: Vebjorg cardigan for mom, first sleeve is more than halfway done. Yes, I'm knitting slower than a slug and it's all plain stockingette. Hand's been bothering me lately 'cause work has been ridiculously busy. Lace prototype is progressing slowly but steadily. Ceci mentioned some valid concerns for making it different sizes, things I'll have to consider. Designing is NOT as easy as it looks, and this thing has very little shaping in comparison.

Spinning: Got a 2 ounce sample of beautimous hand dyed soy silk from Nonokitty Danielle. Um, Danielle? I mentioned that I've only ever spun wool, right? I hope you're not in any hurry to get my review of the stuff. I got out my laceweight spindle and my 4 ounces of plain soysilk that I got with Joy to practice before destroying the dyed stuff. I have a feeling 4 ounces won't be enough to get used to this soy silk. I've already dubbed it 'sweaty palms spinning' And it sticks to my hands and everything WORSE than cathair. On the wheel, I need to empty the last of that laceweight wool off of my spindles and prepare to start working on someting softer. Yummy spinning. And I'm going to try for worsted/aran weight again. Just plain easier to knit.

entrelac at 4:57 PM :: |


Monday, July 11, 2005

Quiet lazy Sunday. Just me, a bunch of cathair, and my laundry. Well, at least until everyone else wakes up.

Oh, too late. They're up. So much for my quiet day.

I'm kidding. Really. But I do plan to get my laundry done today. Well, off I go now. Time to feed the animules before they mutiny.

.... uh, whoops. 12 hours later I realize I NEVER hit "Publish". Told you my quiet day was shot. So, um...

Knitting: Started the sleeve of a cardigan for mom out of Bernat Muskoka. I'd forgotten why I love this stuff. Lace things are slowing down, because they require attention and concentration, two things I seem to be really lacking recently.

Spinning: Filled up spindle #2, will start plying...well, I can hope tomorrow. I know better than to expect to be able to. Used my handy dandy line counter to find out how many yards of the stuff I have already. It's just paid for itself. Plans after I've made however much of this sport/fingering weight stuff as I can stand: Start spinning the rest of the sky blue mohair on the wheel (maybe, not sure yet) or finally break into the yummy 19 micron merino from Kiwicrafter. Whatever I choose, I need something LESS coarse for a while.

entrelac at 12:11 AM :: |


Sunday, July 03, 2005

OMGSTFU! Ahem. Sorry.

Amazement. Blogger actually DID something and fixed all of our messed up blogs. I guess I can start breathing again now.

Knitting: Frogged the top down thing, just wasn't interested in struggling with that 'I can't see what I'm doing' Sirdar Cariba DK AND with making up my own top down garment. The stuff is back in its spot on the bookcase. I have a feeling it's going to stay there for a while longer.

Spinning: Bad me. Went to Bluebonnet today to pick up some yarn I'd had them hold aside for a specific purpose, and....they had rovings. Hand painted rovings from Lorna's Laces. EEEEEVIL. But, of all the pretty reds, pinks, blue, yellows ONE roving called out to me. Or perhaps it just reminded me of someone.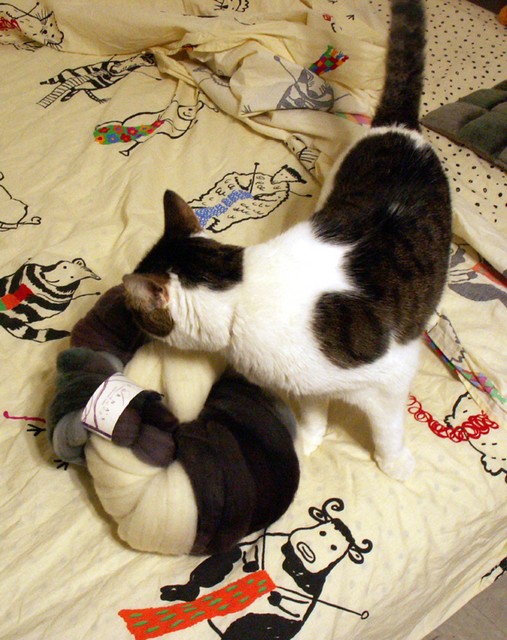 Homefront: Mom's here. I had forgotten how MUCH she talks and how LITTLE she actually says. Is that a normal mom thing? Oh, and brother, wife, and kid are here too. I felt bad today but I HAD to cut and run and avoid them. I'd had a crappy work week, I was already running on a short fuse, and the three of them were like a travelling noise-and-chaos factory. It was pissing me off. INSTANTLY. And it totally wasn't their fault, I just couldn't tolerate it at that moment. But, I think they understood. At least I HOPE they understood. Maybe I can go with them to the Austin Children's Museum tomorrow. (I hope they're going tomorrow. It's their only opportunity.) I've been wanting to go anyway, and Nico (kid) will have PLENTY to keep his attention there, hopefully granting me the freedom (I know better than to ask for quiet) to trail along behind with knitting in hand. We'll see. Ceci, in the meantime because I know that's all anyone asks about anymore, is becoming more and more of a bump on a log, and she'll openly admit it. I'm more and more and more glad it's her and not me.