Links
Renee's Blog
Knitty Magazine
Knitty Coffeeshop
White Lies Designs
Bluebonnet Yarn Shoppe
Poetangel922
Feel free to take a button.

Complete Photo Gallery

Steenking Badges
Archives
August 2004
September 2004
October 2004
November 2004
December 2004
January 2005
February 2005
March 2005
April 2005
May 2005
June 2005
July 2005
August 2005
September 2005
October 2005
November 2005
December 2005
January 2006
March 2006
April 2006
May 2006
June 2006
July 2006
August 2006
September 2006
October 2006
November 2006
January 2007
February 2007
March 2007
April 2007
May 2007
June 2007
July 2007
August 2007
September 2007
October 2007
November 2007
December 2007
January 2008
February 2008
March 2008
April 2008
May 2008
June 2008
August 2008
September 2008
December 2008
February 2009
Site Feed
WIPs
for Mamash
for me
For Lori
FOs
Bluegreen Cowl for Conti
Blue HDC Gianna Hat
Gatorgreen Brent Hat
Easter Bunny Barf Stole
Abuelita's shawl
Crocheted Fingerless Mitts
RedStone Burnished laceweight
RedBlue Woobie
Blue&Brown Monkeyshirt
Chanel Gianna jacket
Autumn Shawlette for Mary
Pink/Blue VLT Scarf
Groverpeel Kite Tail
Gail's Christmas Stocking
Mamash's Jaywalker Stole
Ceci's Christmas Stocking
Lace Insanity
Sophia Elizabethan costume
jackolantern treat bag
Crocheted tentbag
Bucks Bar Handspun
Stitch Markers
Bloo Steering Wheel Cover
Brent Carseat Strap Cozies
Mickie's Socks
Robin Froofy Butt Scarf
Finger First Gloves
Crackie Pi Bed
Garter Martyr
Squareout Blanket
Pink Merino Handspun
Lace Prototype
Playdough handspun
Tick Tank v2.0
Shell pink handspun
Bluefaced Leicester handspun
Gauntlets
100% mohair handspun
Laceweight wool handspun
Wavy
Kimono Pants
Booga Bag
Hot pink superwash handspun
Sky blue mohair handspun
Lustersheen Kimono
Palanca Handspun
Domino Potholder
Moebius Red Scarf
NZG Capelet
NZG Hat
Green/Gold Lumay Scarf
Clauie Eyelash Scarf
Red Top Down Hat
Scribble Lace Scarf
Navy Blue Scarf&Hat
Abuelita Scarf
Leather Wallet
Panda Stitch Markers

Tuesday, November 28, 2006
Oh, and by the way...

In case y'all didn't notice, I made a few little template changes. Mostly, I added a button to make it easier to find the photo album where I have available stitch markers pictured, and I created a new blog button for Mary ('cause she's too cool to not have her own button!).

Mary, If you need a copy of the button for your own devices, holler. I'll happily email it along if you can't just save a copy off from my blog.

Okay, that's it. Gotta go now. G'night!
entrelac at 1:42 AM :: |


Monday, November 27, 2006
Lacevember: Hell just froze over. Again.
I actually finished something lace related before the month ended. It was two YEARS in the knitting, but I officially finished it on Saturday, November 25, 2006. I have to remember that because it was a BIG project for me to see completed. Now I just need to wash and block it. Heh. Thumbnails are clickable as usual.

My completed Lace Insanity, officially named Angel.
The thumbnails are closeups of the different lace stitches used, and why I called this project lace insanity.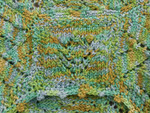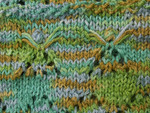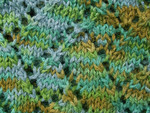 What do people usually do when showcasing FOs? Technial stuff, I guess. Here goes.

Yarn used: Southwest Trading Company Bamboo, 100% bamboo in color Parrot

Needles used: bamboo circulars, US size 4 (3.5mm)

Gauge: 6.5 sts/in over stockingette (yes, I know the stuff is supposed to be knitted at 5 sts/in)

Pattern: Mine. I'm making final edits to the draft now and will be submitting it to the Garter Belt for publication.

Special thanks to

Poetangel

and Robincat for testknitting the pattern for me, in text and in chart forms respectively. You girls ROCK and I owe you more than I can ever repay.

EDIT 11/28: Due to several requests to see what this garment will look like on a body, and because I want to block it properly for photographs, I'm including the cencept drawing Ceci made for me when I submitted the pattern idea to Amy's

No Sheep for You

book. Yes, Ceci is a kickass pencil artist. If this isn't proof enough for you, go check out her

gallery

.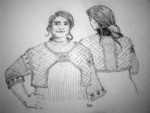 entrelac at 11:56 PM :: |


Saturday, November 18, 2006

Not much to say this time. Just sharing photos of some handspun recently finished. (Thumbnails are clickable as usual.)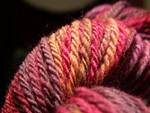 Lorna's Laces wool roving, color Lodestone.
Navajo plied, about worsted weight with 12 wraps per inch.
This is skein # 1 of 6 (still needing to be spun).
Spun on my Ashford Joy.
I'm taking my time on this stuff.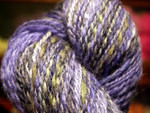 Violet wool sliver brought to me from England by Mary, Mary
Two-ply, varies from 16 to 20 wraps per inch (shame on me).
Spun on Bruiser the Bosworth.
Half of the sliver is plied, the other half is spun into singles on Bruiser and awating plying.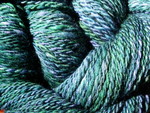 Blue/green superwash roving gifted to me by Morgsarah.
Two-ply, about 14 wraps per inch.
Spun on my Ashford Joy, plied on my All-day Lollipop.
Spun into two skeins totaling approximately 300 yards.
Tenative plans are to knit some finger-first gloves with this yarn.

More photos of each HERE.

entrelac at 4:51 PM :: |


Tuesday, November 14, 2006

Kid n Ewe was...hectic. I didn't even think to break out my camera once. Sorry. Here's a rundown of what I did anyway.

Friday night:
I had planned on going to sleep early so I coul get up early and get to Renee's before 9. Was stupid and thought I could get the singles off of Bruiser before going to sleep. Made a *bleep* mess, took until after 4am to untangle the singles and get them wound on the ball winder.

Saturday:
Woke up at 8:45am YIKES! Got ready in a hurry, ran out the door and got to Renee's by 9:30. Regina met us there and said she couldn't go, she wasn't feeling well and had way too much other stuff going on besides. We were sad, but we understand being busy. So Renee, her kidlet, a kidlet friend, the bald rat-dog, and I all piled into the car and headed out. We made pretty good time, leaving Austin close to 10 and being in no hurry and stopping on the way to eat at a DQ, we got there around 12:30.

I'd told Bezzie to look for us by the windsock I'd brought to put on the car's antenna, but I didn't find out until we got there that Renee's car is a sneaky one -- the antenna hides when the car's not running! I had no way to attach the windsock. I saw a car that looked like Robin's right near us so I ran over to put the windsock on HER car. But HER car's atenna hides too! Phooey. Nevermind.

We went into the first building on the left (the one I'd never been in before) to start looking for Robin and Bezzie. The kidlets of course immediately started wandering off to look at stuff and Renee stayed with them. I tried calling Robin, her phone went straight to voice mail. So I told Renee I was going to go look for Robin and that I'd be back or to call me. I hefted my Joy on one shoulder, my overstuffed bag on the other, and ran to the middle building. I looked through, didn't see Robin anywhere, then got distracted by the Wyatt wheels.

I've been wanting to try spinning on one of those since I chickened out last year. So I set my pack load down in an out of the way spot and went to try out one of the wheels not already being used -- the Norweigan. It's a double drive wheel so I was expecting a bit of adjustment time after using the Scotch tension on my Joy for so long, but no. The wheel was INSTANTLY comfortable, as if I'd been spinning on it forever. I was able to spin the longwool they had for sampling with a long draw -- which I've never been able to do on my Joy even with mohair -- and it was so smooth and effortless I was even able to spot Bezzie and Chunkito passing by. I think I scared Bezzie out of a year's growth by yelling at her, "Hey Bezzie!" We chatted for a few minutes, while I was still spinning (that's how wonderful that wheel is), and then she said she was going to go look at some other stuff. Since I still wanted to try the Pegasus wheel (the one I've been wanting to order), I told her we'd meet up again in a bit. So I wheel-hopped over to the Pegasus and...uh...not as nice. It took me a bit of treadling to find a rhythm that was comfortable, and a little longer still to get the drafting to match the treadling, and it was the same longwool as on the Norweigan. Never thought I'd say this, but in my case the top of the line is NOT my preferred pick! After thanking the Wyatts and getting jokingly scolded for threatening to sneak off with the Norweigan, I picked up my pack load and started off again in search of everyone else.

Renee and the kidlets were buying dichroic glass buttons, so I made another circuit of the middle building looking for Robin. Still no luck. Then I went to the right side building, where the workshops and fiber to fashion competitions were being held. I wasn't even looking to see what wares the vendors had, I was just trying to find Robin. Still no luck. I gave up and went back to the middle building.

I stopped to chat with some ladies I know from Dallas, to look at the pretty colors in the Brooks Farm booth, and to lament the lack of Palanca Farm and Ewenique Fibers among the vendors. Then I chatted with the awesome lady at Heritage Arts for a bit before gravitating toward a group of knitters and spinners all hanging out together. Everyone was wearing nametags and had their blog names listed. Sadly, I didn't recognize very many of them at all. Thankfully, they were all wonderfully nice and invited me to hang out with them and create a nametag of my own. There was more than one laugh at my website name, but I expect that.

I spent the rest of the afternoon there spinning, helping people untangle hanks of yarn that weren't wound out of impatience to knit, teaching another lady how to spin, chatting, spinning, and then helping Renee pick a Nosty from the Hokett Would Work booth. I also decided to get a couple of things for myself that I'd been wanting/needing. Namely, a Nosty in cocobolo rosewood (because it HAS to be cocobolo) and a new threading (orifice) hook for my wheel, again in cocobolo.

Then it was time to head back. All told, I think I spent the least of our little group. Then I got home and munchkin-wrangled while Ceci and Will went with some friends to a party.

Knitting: Lace insanity plugging along slowly but surely. Sides bound off, sleeve about 1/3 done. Ladder Ribbon torture going slowly. Made the mistake of leaving it within eyeshot of the Destroyer. Don't know how many stitches have dropped/run, haven't dared to take it out yet and look. Everything else still on hold.

Spinning: Joy languishing as usual, but I did get the azurite/malachite from morgsarah off of the bobbin and plied. Photo forthcoming. Bruiser was the disaster mentioned above, but it was entirely my fault, not the spindle's. I got it sorted out and finished plying it yesterday during knitting. Everyone oohed and aahed. That will have a photo forthcoming too. Lodestone on Joy still waiting, Nonokitty pink/yellow on all day lollipop still waiting. I might convert it over to the little Lollipop for portability now that I've removed the black alpaca.

Other: Spent all of last week creating an Elizabethan costume for Renee's kidlet for a report she has due this coming Friday. I need to run over there Thursday evening to help with final touches (one last good starching of the lace collar, help Ceci braid kidlet's hair, take photos, etc), and photos for that will be forthcoming also. Robin actually LOVED the pearls I tacked onto the front of her bodice (thank the gods, I was worrying that she'd be less than pleased) and asked me if I could attach them more permanently. I think I can do that.

Stitch markers: Still need to photograph/upload all of the new markers I've made, and create a link to put here so the images can be located more easily. Haven't glued any in a couple of weeks, might have to do that sometime soon considering the HUNDREDS I have still waiting for glue.

Whew. Verbose enough for y'all?