Links
Renee's Blog
Knitty Magazine
Knitty Coffeeshop
White Lies Designs
Bluebonnet Yarn Shoppe
Poetangel922
Feel free to take a button.

Complete Photo Gallery

Steenking Badges
Archives
August 2004
September 2004
October 2004
November 2004
December 2004
January 2005
February 2005
March 2005
April 2005
May 2005
June 2005
July 2005
August 2005
September 2005
October 2005
November 2005
December 2005
January 2006
March 2006
April 2006
May 2006
June 2006
July 2006
August 2006
September 2006
October 2006
November 2006
January 2007
February 2007
March 2007
April 2007
May 2007
June 2007
July 2007
August 2007
September 2007
October 2007
November 2007
December 2007
January 2008
February 2008
March 2008
April 2008
May 2008
June 2008
August 2008
September 2008
December 2008
February 2009
Site Feed
WIPs
for Mamash
for me
For Lori
FOs
Bluegreen Cowl for Conti
Blue HDC Gianna Hat
Gatorgreen Brent Hat
Easter Bunny Barf Stole
Abuelita's shawl
Crocheted Fingerless Mitts
RedStone Burnished laceweight
RedBlue Woobie
Blue&Brown Monkeyshirt
Chanel Gianna jacket
Autumn Shawlette for Mary
Pink/Blue VLT Scarf
Groverpeel Kite Tail
Gail's Christmas Stocking
Mamash's Jaywalker Stole
Ceci's Christmas Stocking
Lace Insanity
Sophia Elizabethan costume
jackolantern treat bag
Crocheted tentbag
Bucks Bar Handspun
Stitch Markers
Bloo Steering Wheel Cover
Brent Carseat Strap Cozies
Mickie's Socks
Robin Froofy Butt Scarf
Finger First Gloves
Crackie Pi Bed
Garter Martyr
Squareout Blanket
Pink Merino Handspun
Lace Prototype
Playdough handspun
Tick Tank v2.0
Shell pink handspun
Bluefaced Leicester handspun
Gauntlets
100% mohair handspun
Laceweight wool handspun
Wavy
Kimono Pants
Booga Bag
Hot pink superwash handspun
Sky blue mohair handspun
Lustersheen Kimono
Palanca Handspun
Domino Potholder
Moebius Red Scarf
NZG Capelet
NZG Hat
Green/Gold Lumay Scarf
Clauie Eyelash Scarf
Red Top Down Hat
Scribble Lace Scarf
Navy Blue Scarf&Hat
Abuelita Scarf
Leather Wallet
Panda Stitch Markers

Sunday, September 18, 2005
Ah, another Sunday come and gone. N'Awstin Knittin' group was awesome, as always. Robin brought a brand new knitter with her, a friend who had tried crochet but found it hurt her hands. Then as most everyone left, Renee and Christi and I relocated to Renee's apartment to keep knitting and to fix a very awesome dinner of hamburgers and fries. While there, one of Hannah's friends dropped by to meet up with her, but she -- being the teenager she is -- promised to be home by 5 and (as of when I left) still hadn't made it home. The poor kid sat and watched TV with us knitting all around him for several hours. That is, until he asked how knitting was done and we got him started learning. *evil grin* Yes, he left for home with a ball of yarn and some needles to keep practicing with. All in all a very productive day.

No photos today, sorry. Maybe tomorrow. But don't bet on it.
entrelac at 10:07 PM :: |


Wednesday, September 14, 2005

Wow, I'm actually delivering photos as promised. Don't get used to it.

First, the WIP, Vebjorg. The sleeves are done, no photo here as they're plain old boring sleeves curled up like drinking straws and in need of some serious blocking. The fronts, however...please pardon the unforgivably blurry photo. I didn't use the flash so the colors would be truer, and ended up with shaky-hand blur. Pfeh. I'll take a better photo some other time. Maybe at work in daylight.


Next, a finished object. The Gauntlets that have been on my WIP list for an embarrassingly long time. FINALLY finished.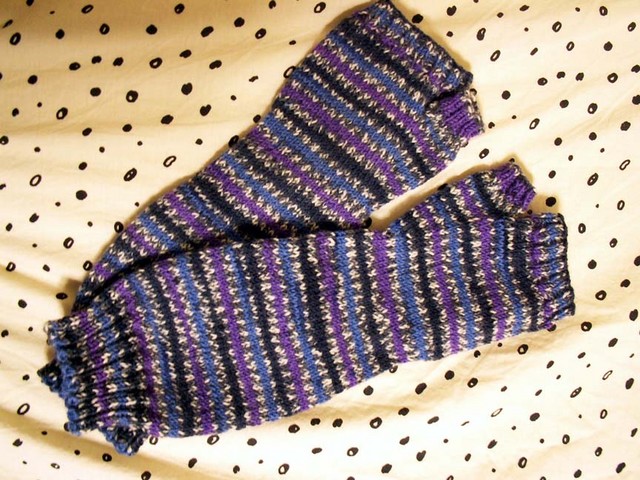 That's it for now.

entrelac at 12:44 AM :: |


Tuesday, September 13, 2005

Let's see. No new photos, shame on me. Maybe I'll get some tonight when I get home.

Work: I'm a guinea pig now. But I told my boss that I flatly refuse to make guinea pig noises. I'm helping test a new feature of our computer system that (honestly) is a complete and utter piece of crap. But, the head honcho types REALLY want this thing used, so....we get to figure out how to make it tolerable. Yippy skippy.

Knitting: Lace prototype half finished, which means the making-it-up-as-I-go is done. The second half is a mirror of the first, giving me the chance to proof what I've done so far, to make sure it's repeatable. Vebjorg is languishing, it's a bit crobar-knitting for me. I need to invest in some Crystal Palace US 5s or 6s to make it easier on me. Finished the Gauntlets. YAY!

Spinning: Working on the ruby/pink 19 micron merino and it's taking a LONG time to fill up a spindle. I think that means I'm spinning it prety darned thin. Boo hoo. Not. ;)

Photos soon, really!