Links
Renee's Blog
Knitty Magazine
Knitty Coffeeshop
White Lies Designs
Bluebonnet Yarn Shoppe
Poetangel922
Feel free to take a button.

Complete Photo Gallery

Steenking Badges
Archives
August 2004
September 2004
October 2004
November 2004
December 2004
January 2005
February 2005
March 2005
April 2005
May 2005
June 2005
July 2005
August 2005
September 2005
October 2005
November 2005
December 2005
January 2006
March 2006
April 2006
May 2006
June 2006
July 2006
August 2006
September 2006
October 2006
November 2006
January 2007
February 2007
March 2007
April 2007
May 2007
June 2007
July 2007
August 2007
September 2007
October 2007
November 2007
December 2007
January 2008
February 2008
March 2008
April 2008
May 2008
June 2008
August 2008
September 2008
December 2008
February 2009
Site Feed
WIPs
for Mamash
for me
For Lori
FOs
Bluegreen Cowl for Conti
Blue HDC Gianna Hat
Gatorgreen Brent Hat
Easter Bunny Barf Stole
Abuelita's shawl
Crocheted Fingerless Mitts
RedStone Burnished laceweight
RedBlue Woobie
Blue&Brown Monkeyshirt
Chanel Gianna jacket
Autumn Shawlette for Mary
Pink/Blue VLT Scarf
Groverpeel Kite Tail
Gail's Christmas Stocking
Mamash's Jaywalker Stole
Ceci's Christmas Stocking
Lace Insanity
Sophia Elizabethan costume
jackolantern treat bag
Crocheted tentbag
Bucks Bar Handspun
Stitch Markers
Bloo Steering Wheel Cover
Brent Carseat Strap Cozies
Mickie's Socks
Robin Froofy Butt Scarf
Finger First Gloves
Crackie Pi Bed
Garter Martyr
Squareout Blanket
Pink Merino Handspun
Lace Prototype
Playdough handspun
Tick Tank v2.0
Shell pink handspun
Bluefaced Leicester handspun
Gauntlets
100% mohair handspun
Laceweight wool handspun
Wavy
Kimono Pants
Booga Bag
Hot pink superwash handspun
Sky blue mohair handspun
Lustersheen Kimono
Palanca Handspun
Domino Potholder
Moebius Red Scarf
NZG Capelet
NZG Hat
Green/Gold Lumay Scarf
Clauie Eyelash Scarf
Red Top Down Hat
Scribble Lace Scarf
Navy Blue Scarf&Hat
Abuelita Scarf
Leather Wallet
Panda Stitch Markers

Monday, November 07, 2005
Eventful weekend so far. I posted on Knitty that I likely wouldn't be able to get to that Boerne Fiber Festival, then at the last minute I got a wild hair up my butt and went. By myself. If I'd had a braincell I would have called Robincat to go with me. But no. I keep forgetting that 6am is NOT too freaking early for the rest of the planet. Just me.

Ahem. Anyway. I know y'all are skipping the blather and jumping to the photos anyway, so I'll stop blathering. Linking highlights here, if you want to see ALL of the photos, here's the album.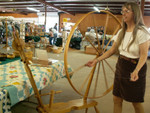 And then, the loot.




Yes, I could NOT wait to spin up that brightly colored stuff in my loot.




If y'all want more details, like captions on the photos, holler. It's late here and I want to go to sleep. G'night.
entrelac at 12:44 AM :: |


Friday, November 04, 2005

One of those 'more about me' questionnaire things I got in an email. Normally I just delete them, but this had some questions I'd not seen before. So...heck. Why not? Feel free to gank the questions and answer them yourself. Or not. I don't care.

1. WHAT COLOR ARE YOUR KITCHEN PLATES? Black, clear, white, cream…all mismatched from about five different sets.
2. WHAT BOOK ARE YOU READING NOW? None. Read all the ones at home. No inclination to go buy / check out more.
3. WHAT IS ON YOUR MOUSE PAD? The mouse, duh. Printed on the mouse pad itself though is the Petsmart Charities logo with a painting by Robert McClintock.
4. FAVORITE BOARD GAME? Bazaar
5. LEAST FAVORITE SMELLS? Overly perfumey anything, and rotting stuff
6. WHAT IS THE FIRST THING YOU THINK OF WHEN YOU WAKE UP IN THE MORNING? Can I get away with laying here for five more minutes?
11. CHOCOLATE OR VANILLA? Chocolate
12. DO YOU LIKE TO DRIVE FAST? Not really, no.
13. DO YOU SLEEP WITH A STUFFED ANIMAL? Does my cat with a full stomach count?
Otherwise, a hand knitted Pasha penguin made for me by Monkeemaven.
14. DO YOU LIKE THUNDERSTORMS? yes
15. WHAT WAS YOUR FIRST CAR? 1979 Chevy Beauville van, modified into a street van by relatives in Chicago. Big, ugly, gas-guzzling, and totally kickbutt.
16. SIGN? Wrong Way.
17. DO YOU EAT THE STEMS OF BROCCOLI? I'd rather not.
18. IF YOU COULD HAVE ANY JOB WHAT WOULD IT BE? Help desk technical support for knitters.
19. IF YOU COULD HAVE ANY COLOR HAIR? What's wrong with the color it is now?
20. IS THE GLASS HALF FULL OR HALF EMPTY? It's always completely full. Just the amount of liquid varies, the rest is filled with air. Go ahead, call me a smart alec. Ask me if I care.
21. WHAT IS YOUR FAVORITE MOVIE? Difficult to say. I like lots of movies.
22. DO YOU TYPE WITH YOUR FINGERS ON THE RIGHT KEYS? I think I do. Mostly at least.
23. WHAT'S UNDER YOUR BED? Storage boxes full of yarn, dust bunnies, drifts of cat hair that avoided the broom last time I swept...
24. WHAT IS YOUR FAVORITE NUMBER? 3.1415926…very useful number.
25. FAVORITE SPORTS TO WATCH? none
26. YOUR SINGLE BIGGEST INTENSE PAIN? Eyeball-squishing migraine
27. PERSON MOST LIKELY TO RESPOND? No one, this isn't an email.
28. WHO IS LEAST LIKELY TO RESPOND? Again, no one.
29. KETCHUP OR MUSTARD? Both
30. HAMBURGER OR HOT DOG? Hamburger, it's not 'mystery meat'.
31. WHAT IS YOUR FAVORITE SEASON? Winter, actually get to wear the things I knit.
32. WHAT IS YOUR FAVORITE VACATION SPOT? Home, on the sofa, with my knitting and my spinning wheel within easy reach.
33. WHAT SCREEN SAVER IS ON YOUR COMPUTER RIGHT NOW? Here? No idea. At home, a slideshow of photos from my hard drive.
34. FAVORITE FAST FOOD? Hm. I'd have to go with Whataburger's grilled chicken sandwich.
35. YOUR BIRTH NAME? Ana Maria Carranza (actually, the hospital band that my mom kept says "Girl Carranza".)