Links
Renee's Blog
Knitty Magazine
Knitty Coffeeshop
White Lies Designs
Bluebonnet Yarn Shoppe
Poetangel922
Feel free to take a button.

Complete Photo Gallery

Steenking Badges
Archives
August 2004
September 2004
October 2004
November 2004
December 2004
January 2005
February 2005
March 2005
April 2005
May 2005
June 2005
July 2005
August 2005
September 2005
October 2005
November 2005
December 2005
January 2006
March 2006
April 2006
May 2006
June 2006
July 2006
August 2006
September 2006
October 2006
November 2006
January 2007
February 2007
March 2007
April 2007
May 2007
June 2007
July 2007
August 2007
September 2007
October 2007
November 2007
December 2007
January 2008
February 2008
March 2008
April 2008
May 2008
June 2008
August 2008
September 2008
December 2008
February 2009
Site Feed
WIPs
for Mamash
for me
For Lori
FOs
Bluegreen Cowl for Conti
Blue HDC Gianna Hat
Gatorgreen Brent Hat
Easter Bunny Barf Stole
Abuelita's shawl
Crocheted Fingerless Mitts
RedStone Burnished laceweight
RedBlue Woobie
Blue&Brown Monkeyshirt
Chanel Gianna jacket
Autumn Shawlette for Mary
Pink/Blue VLT Scarf
Groverpeel Kite Tail
Gail's Christmas Stocking
Mamash's Jaywalker Stole
Ceci's Christmas Stocking
Lace Insanity
Sophia Elizabethan costume
jackolantern treat bag
Crocheted tentbag
Bucks Bar Handspun
Stitch Markers
Bloo Steering Wheel Cover
Brent Carseat Strap Cozies
Mickie's Socks
Robin Froofy Butt Scarf
Finger First Gloves
Crackie Pi Bed
Garter Martyr
Squareout Blanket
Pink Merino Handspun
Lace Prototype
Playdough handspun
Tick Tank v2.0
Shell pink handspun
Bluefaced Leicester handspun
Gauntlets
100% mohair handspun
Laceweight wool handspun
Wavy
Kimono Pants
Booga Bag
Hot pink superwash handspun
Sky blue mohair handspun
Lustersheen Kimono
Palanca Handspun
Domino Potholder
Moebius Red Scarf
NZG Capelet
NZG Hat
Green/Gold Lumay Scarf
Clauie Eyelash Scarf
Red Top Down Hat
Scribble Lace Scarf
Navy Blue Scarf&Hat
Abuelita Scarf
Leather Wallet
Panda Stitch Markers

Friday, April 21, 2006
A thread on Knittyboard got me incensed enough to write this off the top of my head. But then I read it back and realized, I like it. I need to remember it. So I'm posting it here for posterity.

Entrelac's Snarky Rules for Rude Knitters

1. If you tell me I'm doing something wrong, I WILL tell you to shut up and mind your own business, and I WON'T care if I offend you.

2. If you look down on me for my choice of yarn/needles/pattern/knitting style, I CAN and WILL tell you off and make you feel like the snobby B* you are.

3. If you negatively critique one of my finished projects WITHOUT offering constructive criticism, I will reserve the right to do the same. And I WON'T be polite about it.

4. If you try to take my knitting out of my hands, I WILL slap your hands away as hard as I want. And if that's all I do, consider yourself very lucky.

5. If you ever, and I mean EVER, dare to modify one of my projects without my presence and express permission, you'd better get your A* out of my sight and NEVER come back, or I WILL attempt to inflict bodily harm on you.

Got it?

And yes, if any of you catch me doing any of these things, smack me upside the head, please. The only thing I dislike more than rude knitters are hypocritical knitters.
entrelac at 3:49 PM :: |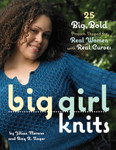 My take on the newly released Big Girl Knits. Please note, these are my feelings and my feelings alone. I was originally going to post this on Knittyboard, but then thought that wasn't such a good idea. Here goes.

My copy arrived today. Sigh.

To be fair, I've had a monster sinus headache that even migraine medicine couldn't dent since a thunderstorm rolled in nearly 12 hours ago (it's still here) so I'm seriously not cheery, but I still don't think I would be gushing about this book.

Let me start with this: I let my expectations get the best of me and now I'm a little sad.

The patterns in the book are all awesome, they all make the models look majorly sexy. I see how the shaping put into the garments helps make assets "work it" and how the do's and dont's lead people to the best looks for their shapes. Yes, here comes the BUT.

Almost none of the sweater designs were anything I could see myself wearing.

I'm a boobs girl, hardcore. Yet at the same time I do NOT like wearing super effing low cut tops. I never have, I likely never will. Not because I think I'll look like a hoochie-mama (even though being able to see down my own shirt past my bra makes me totally unwilling to lean forward in public), but because I don't have clear skin. All of those nice looking tops with the neck cut down to there just make me think "If that were me, someone could play connect the dots on my chest". So I sigh, give up, and move on. What do you think the possibilities might be for the next book including boob-friendly yet still skin-covering tops? Or should I start designing lace weight dickies to wear under those low-cut styles?

Another thing I noticed: the few garments I would consider for myself, besides being too low-cut on the neckline for my taste were either very short sleeve (which I could modify easily enough) or tank tops. For the same bad skin reasons (as well as a serious farmer's tan), I don't wear sleeveless things. Not to mention my gradual slide toward bingo-wings. Any chance the next book will provide options to have sleeves or not on some tops? Or should I start trying to figure out sleeves to put into tank tops on my own?

Lastly, the wrap style is touted over and over in the book. Yes, it looks fabulous on every model in the book and it would be HOT on my younger sister who is a big fan of low cut tops. But like the low-cut necklines on the other garments, I just don't like it for me. I look at the cinnamon-colored tee and think, "Wow, that is gorgeous" and then immediately follow it with "but I'd never wear it". Again, for the same reasons as above. Too much skin showing.

All in all, the book is an incredible inspiration. (Ceci's already picked yarn out of the stash to make the zippered cardigan designed by Jenna Adorno.) But other than the chapters on how to fit and flatter curvy bodies, I don't know that I'm going to get much out of this book for myself.

I'm sorry, Amy and Jillian. For me and my personal super-picky taste, I'll have to keep looking or modifying.

entrelac at 2:51 AM :: |


Saturday, April 01, 2006

Let the Stash Flashing commence!

Please note, I didn't take nearly as many photos this time, so there are several things that are sadly going unremarked. But hey, at least you get to see my showcase yarns in the barrister's bookcase. Ready?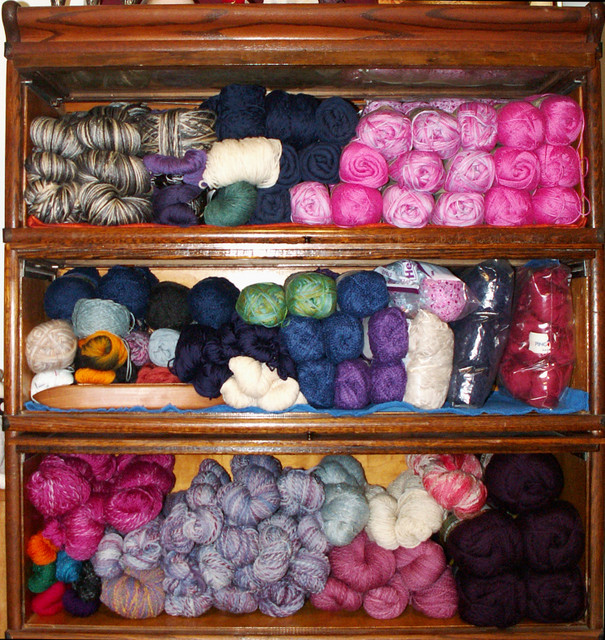 I'll try to list everything.
Starting in the top shelf, left hand side: Robert Kidd 50/50 wool/silk hand painted yarn. Has been in my stash about 10 years waiting for the PERFECT project. And I finally found it. Cast on less than an hour after I took this photo; The dark purple, light purple, and green are all hanks of Cascade 220, destined to join a (not visible) skein of hand spun (not by me) wool in a French Market Bag for a friend; the nearly white is a hank of Knit Picks Dye Your Own in worsted weight. Originally meant to be used for TKGA Master Knitters Level 1 swatches, and hasn't happened yet; the navy blue is 6 skeins of Cotton Fleece, some of it frogged from an abandoned project; the wall o' pink is Ceci's horde of SWTC Bamboo she got in a swap with Hauteknits.
From the left: A jumble of sock yarns, including some 10 year old Wildfoote, some Regia mottled tan/beige, some Lorna's Laces bumblebee colored stuff, and one very precious ball of rainbow colored cotton blend sock yarn. It's precious because of the memories it holds. Reese's sister Connor destroyed the mate to this ball of yarn and the partly made sock and one of my Brittany DPNs. She did this about a week before she was killed by a car. But I digress. Also there are four of the manymany skeins of indigo blue Cotton Classic (my failed attempt at a Shapely Tee), two balls of "parrot" SWTC bamboo (the rest is being used in a beta test garment), 4 hanks of natural color Palanca Farms cotton/wool fingering weight, a crapload of Knit Picks Crayon cotton yarn, some novelty railroad yarn of Ceci's, the rest of the Cotton Classic indigo in a ziploc, and some linen blend yarn from Hauteknits.
This shelf is almost entirely handspun yarns. From left: the little skeins of rainbow colors are 100% superwash wool dyed by Nonokitty. Spun to approximately DK to worsted weight, and I'm still deciding what to knit with it; the HOT pink is 100% wool superwash ebay purchase (I think a dye mishap); one skein of playdough-looking merino yarn, dyed by the wonderful lady at Ewenique Fibers; a CRAPLOAD of Palanca Farms merino dyed in a purple/burgundy/misty color combination; one skein of 100% mohair (cream mohair plied with sky blue baby mohair); a bunch of ruby pink 19 micron merino from New Zealand; two skeins of undyed white coopworth roving and my navajo plying practice skeins; one hank of generic wool hand painted by Ceci's and my best high school buddy Deana; and lastly a bunch of plum purple Bernat Muskoka 100% superwash wool that I'm using to make Vebjorg for my mom.

Then, there's the true storage shelf:
These wire rack shelves exist above my computer desk and hold a wide assortment of yarns including Red Heart petroyarns older than Crackbaby, 100% alpaca yarns from Peru (sadly motheaten before I unwisely bought them on ebay), a cone of 10 lea (that's 3000 yards per pound) wetspun irish linen single ply, more and more and more petroyarns, and my spinning fibers. Nothing really worth looking at closely.