Links
Renee's Blog
Knitty Magazine
Knitty Coffeeshop
White Lies Designs
Bluebonnet Yarn Shoppe
Poetangel922
Feel free to take a button.

Complete Photo Gallery

Steenking Badges
Archives
August 2004
September 2004
October 2004
November 2004
December 2004
January 2005
February 2005
March 2005
April 2005
May 2005
June 2005
July 2005
August 2005
September 2005
October 2005
November 2005
December 2005
January 2006
March 2006
April 2006
May 2006
June 2006
July 2006
August 2006
September 2006
October 2006
November 2006
January 2007
February 2007
March 2007
April 2007
May 2007
June 2007
July 2007
August 2007
September 2007
October 2007
November 2007
December 2007
January 2008
February 2008
March 2008
April 2008
May 2008
June 2008
August 2008
September 2008
December 2008
February 2009
Site Feed
WIPs
for Mamash
for me
For Lori
FOs
Bluegreen Cowl for Conti
Blue HDC Gianna Hat
Gatorgreen Brent Hat
Easter Bunny Barf Stole
Abuelita's shawl
Crocheted Fingerless Mitts
RedStone Burnished laceweight
RedBlue Woobie
Blue&Brown Monkeyshirt
Chanel Gianna jacket
Autumn Shawlette for Mary
Pink/Blue VLT Scarf
Groverpeel Kite Tail
Gail's Christmas Stocking
Mamash's Jaywalker Stole
Ceci's Christmas Stocking
Lace Insanity
Sophia Elizabethan costume
jackolantern treat bag
Crocheted tentbag
Bucks Bar Handspun
Stitch Markers
Bloo Steering Wheel Cover
Brent Carseat Strap Cozies
Mickie's Socks
Robin Froofy Butt Scarf
Finger First Gloves
Crackie Pi Bed
Garter Martyr
Squareout Blanket
Pink Merino Handspun
Lace Prototype
Playdough handspun
Tick Tank v2.0
Shell pink handspun
Bluefaced Leicester handspun
Gauntlets
100% mohair handspun
Laceweight wool handspun
Wavy
Kimono Pants
Booga Bag
Hot pink superwash handspun
Sky blue mohair handspun
Lustersheen Kimono
Palanca Handspun
Domino Potholder
Moebius Red Scarf
NZG Capelet
NZG Hat
Green/Gold Lumay Scarf
Clauie Eyelash Scarf
Red Top Down Hat
Scribble Lace Scarf
Navy Blue Scarf&Hat
Abuelita Scarf
Leather Wallet
Panda Stitch Markers

Monday, June 25, 2007
Today is mondo-photo day.

I finally have the WWKIP photos uploaded and ready, and ALMOST all of the Estes Park photos are ready too. But I'll begin at the beginning. As usual, the thumbnails will all be clickable, and there will be more photos in the gallery than are linked here. Now, on with the photos.


My day at World Wide Knit in Public Day. A lame essay by me. Ahem. It was a warm and sunny Saturday in early June. I'd seen an email saying that the WWKIP day was going to be held outside of the state capitol building at 11am, so like the punctual knitter that I am NOT, I arrived at about 10:45. I didn't see any other knitters about, so I claimed a bench in the shade of a tree and set out my WIPs to get progress photos. Of course, I had to get a photo of my WIPS in front of the capitol building, so there they are, sitting on a park bench in front of the state capitol. Whoop-dee-doo.

And the WIPs in play that day were: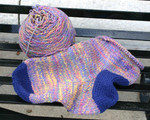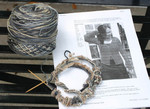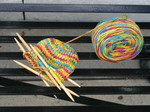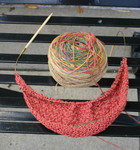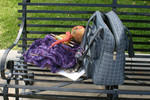 From left to right: Ceci's Christmas stocking, or as EVERYONE asked "Is that sock for you?"; Serrano, using the grey/cream Robert Kidd wool/silk that's been aging in my stash for about 10 years; The Manos stole in a modified Jaywalker chevron design; a painfully bright to-be-felted oven mitt; and the autumn triangular shoulder scarf/shawl thingy. And there they all are, in a pile next to my bag. Amazing that they all fit in there easily, huh? Oh, and with stitch marker boxes tucked in the bottom too. I love that bag. But I digress.
So after my WIP and random area photo shoot I sat down to knit for a few minutes, and finally saw another knitter arrive. I scooped up my stuff and wandered over to say hello, and then we both noticed another lady setting up a blanket on the grass under a tree smack dab in the middle of the greenway in front of the building. That's got to be it! So we went over and said hello and over the next hour or so, more people arrived. The photo on the right is our max turnout.


So, over the next few hours, we all introduced ourselves, chatted about everything, oohed and aahed over everyone's knitting, and I let everyone choose stitch markers from the boxes I brought as gifts for showing up. And I got a good laugh when another lady showed us the Jaywalker sock she's working on...and it's almost the EXACT SAME colors as my Manos! Look, children, this is an example of "Gauge". See? Small. Big. Gauge. Hee. I've been wanting a photo like that since I started that wrap. Thank you mucho bunches to the awesome and sweet knitter for amusing me and letting me photograph her sock!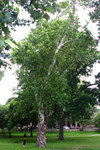 By this time it was about 2pm, the temperature was rising fast, and our shade was disappearing faster. People started packing up and leaving, so I did the same. But not before I got a few parting random "wow. tree." photos. Heh. I remember somewhere someone telling me that that lawn area in front of the capitol building is the same as it was when the place was built. So these trees are OLD. They've seen a lot. And I hope they see a lot more.

And that was my WWKIP day. The next post will be about Estes Park, Colorado. Woo!
entrelac at 1:28 PM :: |


Sunday, June 10, 2007
World Wide Knit in Public Day
Dang that was a lot of fun. I got to wander slowly through the gorgeous front lawn of the state capitol building and snap a few photos. Then I met some great knitters, saw some gorgeous projects in progress, got some knitting of my own done, and sweated buckets. It was totally worth it. :) I have some photos to share of my WIPs and so on, but will need a day or two to get them off of the camera and processed.

After I left the capitol, I went and ate a late lunch with Dad and Ceci and Brent at Bennigan's. Can we say evilevil banana cheesecake dessert? Serious yum. Then we picked up a few things at the HEB and went back to Dad's for the boxing match he invited us to go see. Not my bag by any stretch, but I go to help Ceci keep the munchkin entertained. But, uh, I ended up falling asleep for something like 3 or 4 hours. It seemed to work out okay, though. Ceci and B had some friends of their join them (with the husband/dad watching the boxing match with Dad), and we watched kid's shows on a bedroom TV until the match was over. All in all, a pleasant day.

Pictures soon.

entrelac at 12:34 AM :: |


Tuesday, June 05, 2007

Posting from work, so no photos at this time. Sorry. At least I'm mostly keeping up with my "one post a month" trend. I know, I should post more often, but that requires inclination. *shrug* Maybe if I do small photoless blurbs. Those would be quicker and easier. But the photos are most of the fun.

Let's see, what all has happened since the last time I posted? Oh yeah. I completed and sent off my first ever wholesale order to the Loopy Ewe. Squee! I went to the No Sheep For You book signing with Amy and Jillian and Robin and Renee and Mary...it was much fun. I made up little gifts for Amy and Jillian and they seemed to go over well enough. Then I got my bonus from work and spent half of it on a massive Elfa system to use as a monster desk/storage system in my room and spent the other half on plane tickets et al for the Estes Park Wool Market on my birthday. Renee and Ceci are going with me. I can't wait!

Spinning: I finished spinning up the batts of pretty purple/grey/tan stuff that Laura22 gave me, came out very pretty. I don't have any specs on it yet, though. I need to measure and photograph it before it goes to its new nome with Knittyboard's Nessadawn. My fiber stash has grown tremendously in the past couple of weeks, mostly because of evil people like Robincat (who dyed up my plain Paradise Fibers merino into some lovely lovely stuff) and Dragonfibers, who custom-dyed some merino/silk for me. On the wheel: some red superwash wool given to me by my secret pal in the first Knittyboard spinning SP. On Bruiser the Bosworth: the last 1/4th of the blue wool blend also from my spinning SP. On my bocote Hokett spindle: a sampling of some of the merino that Robincat dyed for me. On Sharp, my spindle from my spinning SP: more of the Falkland wool given to me by Seven. I really need to finish spinning this stuff.

Knitting: I've been just as bad about yarn lately as I have with fiber. I'd previously bought five colors of Butterfly Super 10 to make...something, and then the No Sheep for You book came out (THANK YOU AMY!) and I realized that the Bacardi cardigan would be just about perfect for that stuff. I just...needed more of the Super 10. So I got 5 more skeins in 2 more colors, and the cast on is just waiting for Ceci to do her color-magic with the yarns to help me determine which ones to use where. The Manos Jaywalker Stole got frogged and restarted. Why? I measured what I had done and realized after some math that it was giong to be way wide and too short for me to use as a stole comfortably. (Can we say effing expensive handknitted throw blanket?) So I cast on again using the smaller of the Jaywalker sock instructions, which my mathing told me would give me a much more amenable stole length and width. We'll see. I also have that autumn-colored obtuse triangle shawl puttering along slowly, and other stuff oh hold that I really need to pick back up.

Stash: Yarns added to the stash since last post include the Butterfly Super 10 to complete the Bacardi cardigan, some cotton/acrylic yarn called Kim to make a shirt-thing like Tomato (but maybe not that exact garment because the sizing is limited), and a HUGE pile of another cotton/acrylic yarn called California and California Color for Ceci and me to each make outselves Tomato-like shirt-things. She's getting all excited about putting some of my yarn into her garment and her yarn into mine for the little fair isle bands on the Tomato pattern. I personally...don't want a band of hot pink across a blue shirt to make people LOOK at my chest. "Hello, my chest has its own freaking ZIP code!" Pass, thanks. I would not, however, be opposed to putting that fair isle concept into the neckline or someplace else -- which I will NOT be making cut down to THERE, thankyouverymuch. We'll see what Ceci and I come up with. One thing you CAN count on, we're gonna be matchymatchy. *evil grin* Just like the good old days, when our grandmother would sew dresses for us to wear to church and Ceci always got pink and I always got blue. Yeah. I know you can picture that.

Stitch markers: I've been gluing more of them slowly but surely. However, the photo/upload side of the bargain has suffered rather badly. I really need to get going on them, but most of what's slowed this down is that I just can NOT survive on 4 hours of sleep per night anymore. I did it for almost all of April and then realized it was already starting to negatively affect my job. And that's bad. Maybe I can make a point of photographing/editing/uploading one item per night. That's not too much. Yeah. That's what I'll do.

Okay, verbose enough. More later.