Links
Renee's Blog
Knitty Magazine
Knitty Coffeeshop
White Lies Designs
Bluebonnet Yarn Shoppe
Poetangel922
Feel free to take a button.

Complete Photo Gallery

Steenking Badges
Archives
August 2004
September 2004
October 2004
November 2004
December 2004
January 2005
February 2005
March 2005
April 2005
May 2005
June 2005
July 2005
August 2005
September 2005
October 2005
November 2005
December 2005
January 2006
March 2006
April 2006
May 2006
June 2006
July 2006
August 2006
September 2006
October 2006
November 2006
January 2007
February 2007
March 2007
April 2007
May 2007
June 2007
July 2007
August 2007
September 2007
October 2007
November 2007
December 2007
January 2008
February 2008
March 2008
April 2008
May 2008
June 2008
August 2008
September 2008
December 2008
February 2009
Site Feed
WIPs
for Mamash
for me
For Lori
FOs
Bluegreen Cowl for Conti
Blue HDC Gianna Hat
Gatorgreen Brent Hat
Easter Bunny Barf Stole
Abuelita's shawl
Crocheted Fingerless Mitts
RedStone Burnished laceweight
RedBlue Woobie
Blue&Brown Monkeyshirt
Chanel Gianna jacket
Autumn Shawlette for Mary
Pink/Blue VLT Scarf
Groverpeel Kite Tail
Gail's Christmas Stocking
Mamash's Jaywalker Stole
Ceci's Christmas Stocking
Lace Insanity
Sophia Elizabethan costume
jackolantern treat bag
Crocheted tentbag
Bucks Bar Handspun
Stitch Markers
Bloo Steering Wheel Cover
Brent Carseat Strap Cozies
Mickie's Socks
Robin Froofy Butt Scarf
Finger First Gloves
Crackie Pi Bed
Garter Martyr
Squareout Blanket
Pink Merino Handspun
Lace Prototype
Playdough handspun
Tick Tank v2.0
Shell pink handspun
Bluefaced Leicester handspun
Gauntlets
100% mohair handspun
Laceweight wool handspun
Wavy
Kimono Pants
Booga Bag
Hot pink superwash handspun
Sky blue mohair handspun
Lustersheen Kimono
Palanca Handspun
Domino Potholder
Moebius Red Scarf
NZG Capelet
NZG Hat
Green/Gold Lumay Scarf
Clauie Eyelash Scarf
Red Top Down Hat
Scribble Lace Scarf
Navy Blue Scarf&Hat
Abuelita Scarf
Leather Wallet
Panda Stitch Markers

Friday, December 26, 2008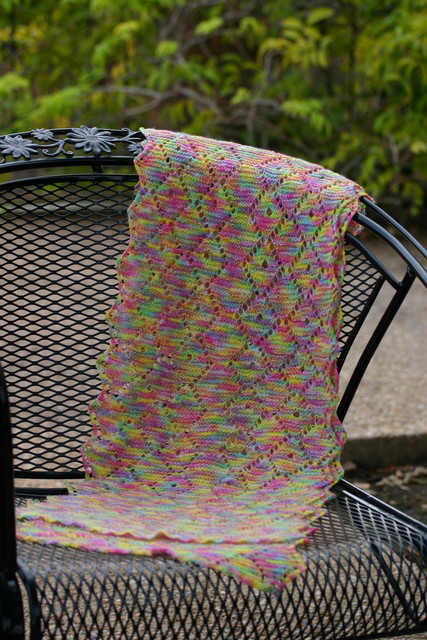 No, I don't have any good reasons for having gone so long without blogging. Call it plain and simple laziness or lack of motivation, it's true.
Knitting:
Actually have some good progress to report here. Finished the Easter Bunny Barf Scarf, pictured above. It grew so much in the blocking (and I didn't block it harshly!) that I'm now calling it the Easter Bunny Barf STOLE. Ceci loves it, which is exactly what wanted. Win. :)
Crocheting:
Also finally finished the Seraphina's shawl. Don't have any photos of it yet, though, 'cause it still needs to be washed and blocked, and then I'm giving it to my Abuelita for (belated) Christmas when Ceci and the monkeys and I go to visit everyone in the Valley the first week of January. If nothing else, I'll be sure to get photos of her wearing it.
Spinning:
Progress here too. I moved another spindleful of Falkland singles off of ZoomZoom my laceweight spindle and am off again. Yes, this IS a long term project. I also finished spinning the Insubordiknits merino and plied it with Robin's logwood merino. Don't have any photos of it uploaded, though. Will get those soon. Also, plied together a skein of worsted/aran weight using my Kundert (as a bottom whorl) from one ply of Carolina Homespun and one ply of the neutral toned wool from Angelina that Susan from Yarnorama so kindly helped me card on her drum carder. I just...ahem... need to find the rest of the Carolina Homespun stuff so I can spin up more. Also finished a skein of Robin-painted merino that I plied with the 60 yds/gm superfine plying silk from Galina. Prettypretty stuff. Again, Susan from Yarnorama was helping me wind it off of my bobbin with her electric skein winder (yay no tennis elbow!) and it SNAPPED before the bobbin was empty. Even so, the one skein is easily over 1000 yards, and weighs less than 3 ounces. Go me!
Stitch Markers:
Going swimmingly as usual. I'm going to see if I can't do a major stocking at Etsy this weekend, all of the pre-packed sets that didn't sell at the HCW Fiber Fest thing a couple of weekends ago. And, before the end of the year, I'm going to possibly change the way I present the items available in my online store, 'cause taking 4+ photos for EACH different marker I make is starting to kill me.
Whew. That's it for now.