Links
Renee's Blog
Knitty Magazine
Knitty Coffeeshop
White Lies Designs
Bluebonnet Yarn Shoppe
Poetangel922
Feel free to take a button.

Complete Photo Gallery

Steenking Badges
Archives
August 2004
September 2004
October 2004
November 2004
December 2004
January 2005
February 2005
March 2005
April 2005
May 2005
June 2005
July 2005
August 2005
September 2005
October 2005
November 2005
December 2005
January 2006
March 2006
April 2006
May 2006
June 2006
July 2006
August 2006
September 2006
October 2006
November 2006
January 2007
February 2007
March 2007
April 2007
May 2007
June 2007
July 2007
August 2007
September 2007
October 2007
November 2007
December 2007
January 2008
February 2008
March 2008
April 2008
May 2008
June 2008
August 2008
September 2008
December 2008
February 2009
Site Feed
WIPs
for Mamash
for me
For Lori
FOs
Bluegreen Cowl for Conti
Blue HDC Gianna Hat
Gatorgreen Brent Hat
Easter Bunny Barf Stole
Abuelita's shawl
Crocheted Fingerless Mitts
RedStone Burnished laceweight
RedBlue Woobie
Blue&Brown Monkeyshirt
Chanel Gianna jacket
Autumn Shawlette for Mary
Pink/Blue VLT Scarf
Groverpeel Kite Tail
Gail's Christmas Stocking
Mamash's Jaywalker Stole
Ceci's Christmas Stocking
Lace Insanity
Sophia Elizabethan costume
jackolantern treat bag
Crocheted tentbag
Bucks Bar Handspun
Stitch Markers
Bloo Steering Wheel Cover
Brent Carseat Strap Cozies
Mickie's Socks
Robin Froofy Butt Scarf
Finger First Gloves
Crackie Pi Bed
Garter Martyr
Squareout Blanket
Pink Merino Handspun
Lace Prototype
Playdough handspun
Tick Tank v2.0
Shell pink handspun
Bluefaced Leicester handspun
Gauntlets
100% mohair handspun
Laceweight wool handspun
Wavy
Kimono Pants
Booga Bag
Hot pink superwash handspun
Sky blue mohair handspun
Lustersheen Kimono
Palanca Handspun
Domino Potholder
Moebius Red Scarf
NZG Capelet
NZG Hat
Green/Gold Lumay Scarf
Clauie Eyelash Scarf
Red Top Down Hat
Scribble Lace Scarf
Navy Blue Scarf&Hat
Abuelita Scarf
Leather Wallet
Panda Stitch Markers

Saturday, February 24, 2007
Yarn Pr0n...Saturday?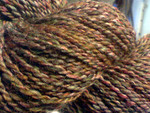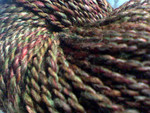 Pardon the iffy quality of those photos. They were taken at work with my phone because it's just plain easier to carry than my honking huge but wonderful new DSLR. I used photoshop to make them as color-accurate as I could, but of course I'm still not happy. Oh well. Just incentive to get my camera and tripod out into daylight. Anyway.
Knitting: It's slowed back down to a crawl. Are you surprised?
Spinning: Well, other than that skein of Forestness up there, I finished a second skein of the Lorna's Laces Lodestone for Ceci....mostly because I needed the third bobbin free to ply up the Forest. Spindles have been idle because I've been doing other stuff. Like...not spinning.
Stitch markers: YAY! People are buying them! THANK YOU THANK YOU THANK YOU! I spent all day Thursday at work beading just shy of 1000 new rings with the sterling silver beads I bought on Wednesday. (Yes, I have a queue of rings waiting for beads. I just can't afford that many beads all at once, and I can't glue them that fast either.) Spent Friday getting glue all over my fingers and have about 200 completed stitch markers to show for it. Also on Friday near the end of my shift, one of the guys at work (an Irishman, very friendly fellow) was chatting with some of the other people there, and as is usual, was joking around exaggerating his accent. He was walking back by my desk still saying random goofy things when he stopped and looked at my stitch markers and commented, "Are ye makin' wee jewelery fer the leprechauns and faeries?" (That's my attempt to spell his accent, pardon if it looks odd.) I told him no, and what they were. He said they still looked like leprechaun jewelery to him, and that the pink ones (photos forthcoming) were to give to the leprechaun lasses. ...yeah. All of that still being said in his exaggerated Irish accent. I had to stop gluing because I was laughing pretty hard by that point. I'm so glad my coworkers don't see me as a freak for doing crafty stuff in between phone calls.
Still to come:
-
Zen String
has asked me if I would be willing to start designing knitting patterns for her yarn lines. I'm still unsure about doing this for her, as y'all have SEEN how long it takes me to get anything done, much less original stuff. (Case in point: Lace Insanity, aka Angel Cum Laude took me TWO YEARS to complete, and it's still not what I could call wearable.) Maybe I can sketch up Ceci's and my ideas, create a VERY rough pattern draft, and beg for someone to help me with test knitting? *bambi eyes* There'll be free stitch markers in it for you.
- I've started tossing about the idea of making non-dangle crochet/row markers. Prototypes have gone to Robin for testing/critiqueing. I hope to be able to make them in both worsted and lace/sock weight sizes. We'll see.
- Looking into non-copper nickel-free wire for people with specific metal sensitivities (front runners right now besides silver and gold are niobium and titanium because they both can be anodized to get awesome colors).
- Just got in a box full of beads from an online shop that I need to sort and see if I have rings for them all. They're very pretty. Probably because I gave Ceci the task of picking them out. ;)
- I need to go back by the bead store and buy a HUGE pile of jet black beads (because I forgot to order them online) to go with some of the rings I already have cut. They're too pale for the silver in my personal opinion and I don't know if my just-arrived beads will work either. But I'll probably run it by Ceci first, though. She's my color coordinator.
entrelac at 12:05 PM :: |


Tuesday, February 13, 2007

Busy busy busy. It sucks. Needless to say, I don't have much knitting-wise to talk about because I've been busy.

Etsy: Things are quiet, but it's barely been a month so I'm not giving up hope yet. I've had a few buyers (THANK YOU!) and I hope to attract more attention soon. Robin's asked me to put her handspun up for sale for her, and that'll help for sure. Her handspun kicks serious butt. Doubt me? See for yourself:

How's that for some yummy yarn?

Knitting: I've had serious startitis and will be updating my progress bars over on the right. The only chance I had to photograph them so far was at Robin's with my phone, so pardon the craptastic pictures, I photoshopped them as best I could. I have a pair of socks on DPNs for myself (!!!)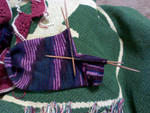 out of a variegated Knit Picks yarn that Robin gave me, a fichu from Victorian Lace Today for Mamash,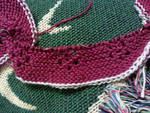 the super spiral shawl again some more,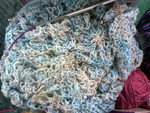 and all of the other usual suspects. Oh, and I'm helping Renee out by finishing a tank top for her that she started with some really pretty Schaffer Anne.

Oh, yeah, speaking of, I have a new cell phone (same number as before). It's a really nifty little toy and I'm having fun playing with it. And, just because it IS the name of the phone, I have to share a link to the webpage about it to fill y'all with ENVY
.

Spinning: Well, as usual, have gotten next to nothing accomplished. But, I did splurge and get a new turned bocote drop spindle for myself from Hokett Would Work. Sadly, they don't seem to have any kind of internet presence, but Jim Hokett (the woodturner) is a really personable gentleman. If you'd like to try one of his spindles (which I will rank ABOVE Greensleeves in quality based on personal experience), let me know. I have his contact information and can get you in touch with him. Also, Robin's got her spinnin' groove on but good -- obviously. Just scroll on back up to that yarn at the beginning of this post. She can crank out an entire vest's worth of handspun in a week. And I don't exaggerate. I think I'm going to have to start asking her to do some spinning for me just so the fibers don't end up in my stash forever. And, Mary's taken up spinning too. Woohoo! She's so awesome, she invested in a Majacraft Rose (now THAT is a pretty wheel) and is teaching herself how to spin warm weather fibers like cotton. Go on with your bad self, Mary. You kick butt!

Aaaaand...that's all I can think of to type right now. I know. Yawn. Sorry. I really am about as exciting as a piece of dry toast. At least I don't delude myself into thinking otherwise.