Links
Renee's Blog
Knitty Magazine
Knitty Coffeeshop
White Lies Designs
Bluebonnet Yarn Shoppe
Poetangel922
Feel free to take a button.

Complete Photo Gallery

Steenking Badges
Archives
August 2004
September 2004
October 2004
November 2004
December 2004
January 2005
February 2005
March 2005
April 2005
May 2005
June 2005
July 2005
August 2005
September 2005
October 2005
November 2005
December 2005
January 2006
March 2006
April 2006
May 2006
June 2006
July 2006
August 2006
September 2006
October 2006
November 2006
January 2007
February 2007
March 2007
April 2007
May 2007
June 2007
July 2007
August 2007
September 2007
October 2007
November 2007
December 2007
January 2008
February 2008
March 2008
April 2008
May 2008
June 2008
August 2008
September 2008
December 2008
February 2009
Site Feed
WIPs
for Mamash
for me
For Lori
FOs
Bluegreen Cowl for Conti
Blue HDC Gianna Hat
Gatorgreen Brent Hat
Easter Bunny Barf Stole
Abuelita's shawl
Crocheted Fingerless Mitts
RedStone Burnished laceweight
RedBlue Woobie
Blue&Brown Monkeyshirt
Chanel Gianna jacket
Autumn Shawlette for Mary
Pink/Blue VLT Scarf
Groverpeel Kite Tail
Gail's Christmas Stocking
Mamash's Jaywalker Stole
Ceci's Christmas Stocking
Lace Insanity
Sophia Elizabethan costume
jackolantern treat bag
Crocheted tentbag
Bucks Bar Handspun
Stitch Markers
Bloo Steering Wheel Cover
Brent Carseat Strap Cozies
Mickie's Socks
Robin Froofy Butt Scarf
Finger First Gloves
Crackie Pi Bed
Garter Martyr
Squareout Blanket
Pink Merino Handspun
Lace Prototype
Playdough handspun
Tick Tank v2.0
Shell pink handspun
Bluefaced Leicester handspun
Gauntlets
100% mohair handspun
Laceweight wool handspun
Wavy
Kimono Pants
Booga Bag
Hot pink superwash handspun
Sky blue mohair handspun
Lustersheen Kimono
Palanca Handspun
Domino Potholder
Moebius Red Scarf
NZG Capelet
NZG Hat
Green/Gold Lumay Scarf
Clauie Eyelash Scarf
Red Top Down Hat
Scribble Lace Scarf
Navy Blue Scarf&Hat
Abuelita Scarf
Leather Wallet
Panda Stitch Markers

Thursday, March 29, 2007
I'm not a morning person.
And most anyone that bothers looking at my blog should have figured that out by now. Moreover, lack of sleep makes "morning" last a LOT LONGER than until 12:00 noon. Several days of lack of sleep pretty much guarantee that I'll be grouchy and snarky no matter what's going on and I WILL say mean things that I would never act on rationally. That's what I mean when I say "snarky".
Ugh, and worse, my throat is starting to bother me and I know it's from lack of sleep. Swallowing feels like I've got something stuck against one tonsil, and yawning HURTS. Feels a bit like the last time I had a throat infection. Thankfully I asked for tomorrow off from work, I'll likely spend the day sleeping and refusing to speak aloud and being snarky with myself so I don't have to vent on my blog. Because heaven forbid that I should say what I'm thinking and feeling on my own effing blog. Oh no. Someone might read it, what a horrifying thought!
Pfeh. There I go being sarcastic and snarky again. Fine. I'll just shut up now and bottle it all up like I always do. Nothing but happiness and rainbows and scrappy fun fur here! sigh. I'm snarking again. Nevermind.
entrelac at 10:59 AM :: |


Wednesday, March 28, 2007
Photo-free post
Sorry for being so quiet lately. Been busy. Etsy store took off like a shot after a few people blogged about my stitch markers, and now I'm spending all evening every evening getting new markers photographed, photoshopped, and uploaded onto Etsy and my gallery. Thank the gods that Ceci's been having fun helping me with packing and shipping the orders as they come in and Robin's been the best friend ever by taking over the gluing duties as her schedule allows. So we've not been falling behind in that regard at least. I'm hoping to get another batch of stuff uploaded onto Etsy before the week is out, but at the rate I'm going with the not getting enough sleep, I'm going to be a wreck before Friday and the update won't get done. Hm. I'll have to see if Ceci wouldn't mind doing that too...

Anyway. Knitting and spinning have (clearly) both been put by the wayside and I haven't even logged into City of Heroes for the past few days. Oh well. I'll live I suppose. If I can get enough sleep, that is. But in the meantime I've been spending the money as fast as it's been coming in to keep up with the store. A chunk of change went to buying postage stamps (and I'm considering getting one of those postage scale/stamp printer setups to make my life easier, and I've been buying more beads and wire and specialized tools from various and sundry sources that I can't talk about in detail here. I've had the misfortune of finding out that every idea I talk about on Sunday afternoon ends up being stolen and copied. POORLY. So I'm not saying anything anymore. To anyone. Whatever.

So that's the past week in a nutshell. We'll see if I survive to the weekend when I will (hopefully) have a chance to blog a bit more and maybe even offer up some photos. Until then, go read my brother's blog

here

. He's a medieval re-enacter, sci-fi nut (nearly as bad as I am), and apparently a pretty darned good poker player. I totally have no idea what he's talking about half the time when it's about poker, but hey, I'm sure I'm just as incomprehensible when I'm talking knitting to him. ;)

entrelac at 3:59 AM :: |


Monday, March 05, 2007
Windy Sunday yarn pr0n (....but it's Monday already.)
Zilker Kite Festival was yesterday and it was great. But let me back up in time first. (Warning: More phone-tastic photos ahead. I never seem to have time anymore to stop and set up a proper photo shoot with the DSLR because it really IS a major production. Especially with the Destroyer around.)

Two weekends ago Zen String brought some handpainted BFL roving to our Sunday knitting group and offered it to us to spin up samples. I originally had the whole braid of roving (I really should have photographed it), but I split it with Robin and Mary so we could show Angelina out different spinning styles.
Mary has been mastering her spinning and her spinning wheel at an INCREDIBLE pace, but then, I should have known she'd pick it up quick. She's just kickbutt that way. Anyway. Here's a peek at the portion that I spun up. I used my bocote spindle made by Hokett Would Work in NM and I was trying to achieve a thicker yarn than the laceweight stuff I've been spinning lately. I don't know that I entirely succeeded. It varies more than I care for. But that's my spinning technique or lack thereof. The roving was wonderful and once I got into the groove of spinning it, it was like buttah. Angelina, thank you thank you thank you for giving me a chance to try out your roving. I have a feeling that I'm going to be buying some once I'm done spinning up the Falkland Seven gave me.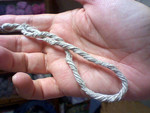 Last weekend, Mary got in some nifty cotton/linen/lyocell (is that right, Mary?) sliver from Paradise Fibers. She is awesome and let me snitch a four-inch chunk of the sliver to sample as I've never spun plant fibers before -- just a brief frustrating attempt to spin some soy silk. I ended up giving the stuff to Robin who of course spun it up effortlessly. I spun it up on my fishy neon Lollipop spindle which was surprisingly much easier than I was expecting it to be, and this is the result. The singles vary between a heavy laceweight and a fingering weight. And my spindle hit the floor only twice. ;) It's not as soft as I was expecting, but I'm pretty sure it'd soften with a wash.
Then earlier this past week I received the hand-dyed silk hankies that I purchased from Lime and Violet. Now, I've never had the chance to spin real bombyx silk before either so I knew it was going to be different. But surprisingly it was a lot easier than I expected it to be. I used the drafting technique that Amy Knitty explained in her Knittyspin article...and of course went overboard. I drafted it to a fingering weight bit of unspun and then drafted it even thinner during spinning. Of course I'm making it sound truly effortless, but it wasn't. It was kinda fiddly but at least it wasn't AUGH-inducing like the soy silk, probably because it stuck to itself so easily. But I'm rambling now. Anyway. I spun up something that varies between fingering weight and sewing thread. Yeah. Sewing thread. See? So, major thanks to Miss Violet for painting the pretty pretty silk.

(There are more photos of all of these handspun yarns in my

Spinning Gallery

.)

Finally, we arrive to this weekend. Took me long enough, didn't it? So, I found out that the kite festival was on Sunday...about THREE DAYS beforehand so there was no time to plan a Knitty-invaion of Zilker park. I invited everyone, and was not surprised that everyone else already had other plans/stuff to do. I convinced Dad to go with me and we got to the park at about 11. Ready for a bunch of photos? Here goes: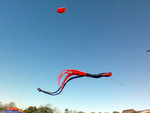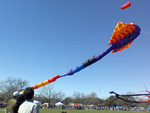 When Dad and I arrived, the first thing we saw were the HUGE kites that are flown every year next to the competition field. This year they had a giant squid (photo 1), a massive manta ray (photo 2), and attached to the ray's line were two great big dogs (photo 3). We stopped to watch the giant kites and for me to take a few photos (yes, again) with my phone because I didn't want to have to be lugging my DSLR around on top of my kites and my purse.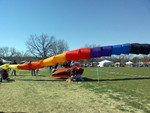 Shortly after we stopped to watch the big kites, the manta ray fell out of the sky (photo 4), nearly landing on top of some of the other spectators (photo 5). The kite-wranglers (because with a kite that big it's no longer flying, it's wrangling) ran to get the tail off of people and to get the big ray back up in the air (photo 6).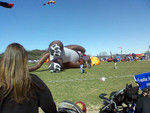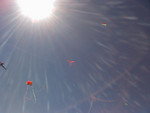 Of course, since the dogs were attached to the ray's line, the moment the ray was down the dogs took that chance to get a good nap in (photo 7). Finally, the ray was up again, and the dogs started to follow it (photo 8). Then we wandered off to get a little kite-flying of our own in. I got to fly both paper kites I'd made for the occasion, and got one tangled in a kid's kite line when I stopped paying attention for three seconds to try and get out my phone to take a photo. That one bit the dust. But hey, it was just a piece of paper. No big loss. Then I flew the bird kite that a friend of mine gifted to me, and learned that my phone's camera can't really handle sunlight too well (photo 9). Dad was minding the kite while I snapped that shot, and my bird is just about in the center of the image, not that you can really tell much about it with all the sun glare. But, Ceci declared that photo really cool anyway.

After Dad and I got our kite flying out of the way and he said he was getting hungry, we went back toward the competition field and got in line to buy tickets for something to eat. The food was effing expensive, and the lines were long. While we were waiting, we started chatting with a very nice lady in line behind us with her little girl. I checked the time and realized it was already close to 1pm, so told Dad we ought to head back. He agreed, and gifted the lady with the tickets we'd bought for our food. We got back to our car (Shuttle busses are the BEST!) and picked up Quiznos on our way home. Mamash didn't really care for the meatball sub we got for her, :( but Dad really really liked the Sobe Power I suggested he try. (ahem. SOBE!! sorry. had to do it.) Then after that I headed to knitting. All in all, a busy day but a fun day. Next year, we need to go there in numbers! And take a picnic basket!

Knitting: The opera fichu is moving along steadily. I've started the lace edging but now that it's up to one thousand some odd stitches, my 40" circular suddenly seems not nearly long enough. I tried my Denise with the mondo-long cord, but as most people have mentioned in the past, the yarn doesn't slide along the cord easily. So I ended up spending more time scrunching the stitches along the cord than I was spending actually knitting. Back onto my Inox it went. I guess I'll suffer with the too-many stitches. It's only 20-some rows... Everything else has been idle.

Spinning: Besides the stuff mentioned above, I'm still working slowly and steadily on the Falkland and the variegated blue/purple wool blend sent to me by my spinning SP. I took Bruiser to the Verizon store on Saturday when I went with Dad to get a new cellphone, and had lots of positive interest in what I was doing. One little girl even asked if she could have a bit of the wool, so I broke a piece off of the blue roving for her. She was so happy.

Stitch markers: Thank you to everyone who's buying! I have more new stuff in the works (aka, I have 1000+ markers waiting to be glued because I dread sticking my fingers together and more beads than I think I'll ever get to.) and I have some yummy wonderful new and different wire on its way. Y'all will get to see that soon enough. Also, I've got some prototype non-dangle crochet/row markers being tested now, tenatively named alphas and omegas because their shapes resemble the lowercase Greek letters. They are beadless -- wire only -- so are quicker for me to make and will end up being less expensive than the beaded stitch markers. And I really really need to get going again on my online store. I think I'll go do that now.