Links
Renee's Blog
Knitty Magazine
Knitty Coffeeshop
White Lies Designs
Bluebonnet Yarn Shoppe
Poetangel922
Feel free to take a button.

Complete Photo Gallery

Steenking Badges
Archives
August 2004
September 2004
October 2004
November 2004
December 2004
January 2005
February 2005
March 2005
April 2005
May 2005
June 2005
July 2005
August 2005
September 2005
October 2005
November 2005
December 2005
January 2006
March 2006
April 2006
May 2006
June 2006
July 2006
August 2006
September 2006
October 2006
November 2006
January 2007
February 2007
March 2007
April 2007
May 2007
June 2007
July 2007
August 2007
September 2007
October 2007
November 2007
December 2007
January 2008
February 2008
March 2008
April 2008
May 2008
June 2008
August 2008
September 2008
December 2008
February 2009
Site Feed
WIPs
for Mamash
for me
For Lori
FOs
Bluegreen Cowl for Conti
Blue HDC Gianna Hat
Gatorgreen Brent Hat
Easter Bunny Barf Stole
Abuelita's shawl
Crocheted Fingerless Mitts
RedStone Burnished laceweight
RedBlue Woobie
Blue&Brown Monkeyshirt
Chanel Gianna jacket
Autumn Shawlette for Mary
Pink/Blue VLT Scarf
Groverpeel Kite Tail
Gail's Christmas Stocking
Mamash's Jaywalker Stole
Ceci's Christmas Stocking
Lace Insanity
Sophia Elizabethan costume
jackolantern treat bag
Crocheted tentbag
Bucks Bar Handspun
Stitch Markers
Bloo Steering Wheel Cover
Brent Carseat Strap Cozies
Mickie's Socks
Robin Froofy Butt Scarf
Finger First Gloves
Crackie Pi Bed
Garter Martyr
Squareout Blanket
Pink Merino Handspun
Lace Prototype
Playdough handspun
Tick Tank v2.0
Shell pink handspun
Bluefaced Leicester handspun
Gauntlets
100% mohair handspun
Laceweight wool handspun
Wavy
Kimono Pants
Booga Bag
Hot pink superwash handspun
Sky blue mohair handspun
Lustersheen Kimono
Palanca Handspun
Domino Potholder
Moebius Red Scarf
NZG Capelet
NZG Hat
Green/Gold Lumay Scarf
Clauie Eyelash Scarf
Red Top Down Hat
Scribble Lace Scarf
Navy Blue Scarf&Hat
Abuelita Scarf
Leather Wallet
Panda Stitch Markers

Tuesday, May 15, 2007
Yikes, the middle of May already!
The store is going swimmingly. YAY! Thank you everyone who's ordered from me. :) But, in case y'all think I've been just sitting on my laurels here, let me show you what I've been doing.
Stitch markers: I'm still making more. That's what I realy enjoy doing. I just, you know, can't use 1000+ markers in all of my WIPs, even with as many projects as I have lying around.
I have all of these to photograph, photoedit, and upload:
And then MORE fresh supplies because I went a bit slap happy with the choices from my suppliers:
So yeah. If you see me online (either on an IM program or in the Knitty chatroom) but not responding, it's probably because I'm busy doing something stitch marker related and not paying attention to my computer. Bear with me. :)
Knitting: The Jaywalker Stole is actually making progress. Then again, it's probably because I've been knitting on it, Ceci's been knitting on it, even Mary's awesome friend Sara (with or without the h? I never found out) knitted on it a bunch this past Sunday. :) So many happy energy going into it, it's gonna be like wearing a hug, even more so than the usual wonderfulness of the Manos. Photos of progress taken just a few minutes ago: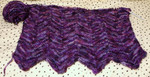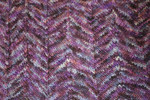 Also, I just (I know, I know. Startitis.) the other day started a little point-up obtuse triangular thing out of this lovely lovely merino-tencel fingering weight yarn that Mary dyed and gave me (because it got tangled and she couldn't bear to untangle it) a while back. I'm using the increase both edges every round concept from Amyknitty's Tuscany shawl out of her
No Sheep For You
book, but am using a little simple and fun little all-over pattern I found in one of my lace books called "St. John's Wort". I don't know how visible it is in the photo, but it's pretty in person. I also don't know what size of object I'm going to end up with as I have only the one ball, but whatever it ends up as, it ends up as. I'm just knitting this for the fun of it anyway. Here's a photo: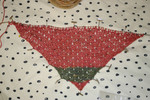 Everything else is pretty much on hold, as they're either not as portable, or I've lost interest, or some other lame reason.
Spinning: I FINALLY finished the Ashland Bay Forest roving for Helen. She posted photos of the finished batch on her blog. (Click on the AngelKnits button over there on the left.) Bought the stuff from Paradise Fibers, and let me tell you, it was a DREAM to spin up. I have 24 ounces of the Midnight colorway waiting for me to start in on it, but I think I'm gonna finish up a few odds and ends I have lying about. I also think I'm going to hand my 64s merino (bought at the same time as the two colors of Ashland Bay) over to either Robin or Angelina for a dye bath. Colored rovings are just so much more fun to spin. ;) Oh, and Mary graciously offered to let me try putting some of the scoured mohair that Bevy gave me through her drum carder next time we meet at her place. I can't wait to see the results. Bevy is Ceci's husband's grandfather and a really really wonderful guy, and I'd really like to show him what I can do with the three POUNDS of mohair he gave me. Hm. maybe I can get Robin to teach me how she makes boucle. (KIDDING!)
Misc: The Giant Pink and Yellow Rat's Nest (tm) as I've taken to calling the 1-POUND cone of kitchen cotton that Robin so kindly dyed for me is about halfway untangled. It's getting there. And when it's all tidy again Ceci and I are gonna use it to crochet or knit grocery shopping bags for ourselves. Partly so that we're being a little nicer to the planet, but mostly because BRIGHT pink and INTENSE yellow mesh bags would totally weird out the grocery store employees and be worth the laughs. :)
Have a great week, y'all!
entrelac at 2:34 AM :: |


Tuesday, May 01, 2007
MY ONLINE STORE IS OPEN!!
I can not believe it! I actually did it! (With a HECK of a lot of help from many many many people, you're all awesome!) Click on my logo there on the left, it'll take you to the store. Please, look around, tell me if you find anything misspelled or just plain stupid, so I can make it better. :)
WOOOHOO! I'm so excited and tired 'cause it's 4am that I'm LOOPY! Ahem. Okay, enough. I need to go get my laundry out of the dryer then get to sleep. Such mundane tasks interfering with my store... *muttergrumble*

...WOO!