Links
Renee's Blog
Knitty Magazine
Knitty Coffeeshop
White Lies Designs
Bluebonnet Yarn Shoppe
Poetangel922
Feel free to take a button.

Complete Photo Gallery

Steenking Badges
Archives
August 2004
September 2004
October 2004
November 2004
December 2004
January 2005
February 2005
March 2005
April 2005
May 2005
June 2005
July 2005
August 2005
September 2005
October 2005
November 2005
December 2005
January 2006
March 2006
April 2006
May 2006
June 2006
July 2006
August 2006
September 2006
October 2006
November 2006
January 2007
February 2007
March 2007
April 2007
May 2007
June 2007
July 2007
August 2007
September 2007
October 2007
November 2007
December 2007
January 2008
February 2008
March 2008
April 2008
May 2008
June 2008
August 2008
September 2008
December 2008
February 2009
Site Feed
WIPs
for Mamash
for me
For Lori
FOs
Bluegreen Cowl for Conti
Blue HDC Gianna Hat
Gatorgreen Brent Hat
Easter Bunny Barf Stole
Abuelita's shawl
Crocheted Fingerless Mitts
RedStone Burnished laceweight
RedBlue Woobie
Blue&Brown Monkeyshirt
Chanel Gianna jacket
Autumn Shawlette for Mary
Pink/Blue VLT Scarf
Groverpeel Kite Tail
Gail's Christmas Stocking
Mamash's Jaywalker Stole
Ceci's Christmas Stocking
Lace Insanity
Sophia Elizabethan costume
jackolantern treat bag
Crocheted tentbag
Bucks Bar Handspun
Stitch Markers
Bloo Steering Wheel Cover
Brent Carseat Strap Cozies
Mickie's Socks
Robin Froofy Butt Scarf
Finger First Gloves
Crackie Pi Bed
Garter Martyr
Squareout Blanket
Pink Merino Handspun
Lace Prototype
Playdough handspun
Tick Tank v2.0
Shell pink handspun
Bluefaced Leicester handspun
Gauntlets
100% mohair handspun
Laceweight wool handspun
Wavy
Kimono Pants
Booga Bag
Hot pink superwash handspun
Sky blue mohair handspun
Lustersheen Kimono
Palanca Handspun
Domino Potholder
Moebius Red Scarf
NZG Capelet
NZG Hat
Green/Gold Lumay Scarf
Clauie Eyelash Scarf
Red Top Down Hat
Scribble Lace Scarf
Navy Blue Scarf&Hat
Abuelita Scarf
Leather Wallet
Panda Stitch Markers

Wednesday, April 27, 2005
Ho hum. Another week, another pile of bills. In other words, nothing exciting to report. Well, except that I finally got off of my lazy behind and cleared my camera's memory cards onto the hard drive.

Wendy, as promised: much photoage. Of course, many many more in my Galleries. Feel free to peruse them at your leisure. Anyway. On with the images! (and many apologies to those of you with dialup. You might want to go run errands or something while you wait.)

First off, a Finished Object to report: Kimono from Debbie Bliss' The Baby Knits Book. Yarn: Red Heart Luster Sheen. (I know, I know. I made a Debbie Bliss pattern from RED HEART. Suck it up. It's a really nice yarn for the price.)The whitish blur in the bottom right corner of the image was Crackbaby hopping past me while I was taking the photo.

Next, an older FO that I finally blocked: The Abuelita Scarf I made for my abuelita (that's grandmother in Spanish) in Colombia from some hand dyed roving that I spun on a drop spindle to very approximately lace weight then knitted. Yes, it changes color from one end to the other.
Can't have photoage without some non-knitting ones. A mockingbird that was hanging out in our back yard despite the presence of the dogs.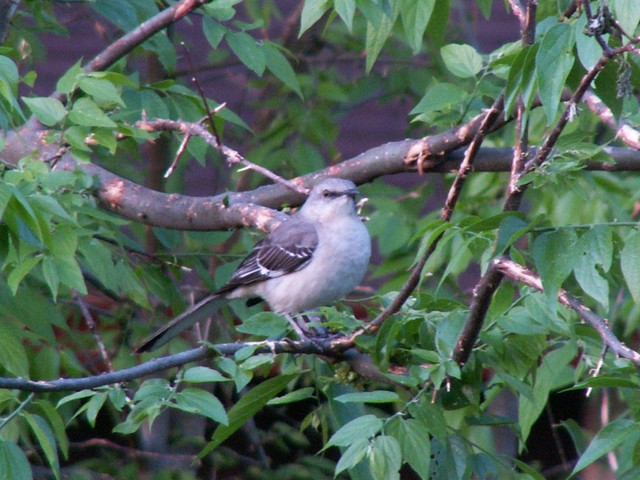 Also, one of a little bird who built her nest RIGHT outside my bedroom window. She wasn't too keen on my sticking the camera this close to her nest, even with a window between us.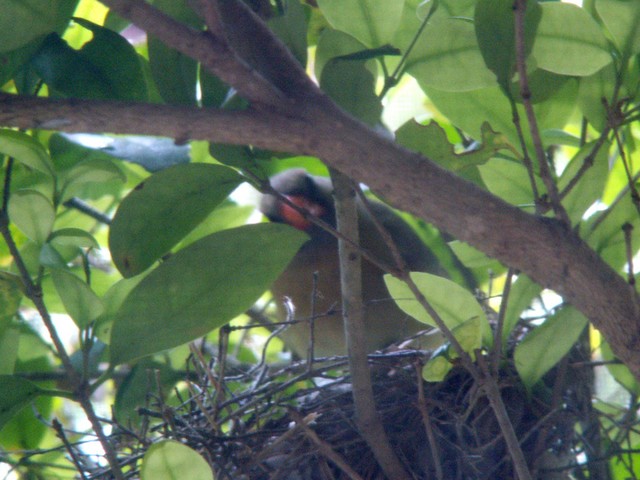 Finally, no photoage is complete without a picture of His Furness! This was one of a very few photos that turned out well from a bout of 'laze on the bed with the camera in one hand'.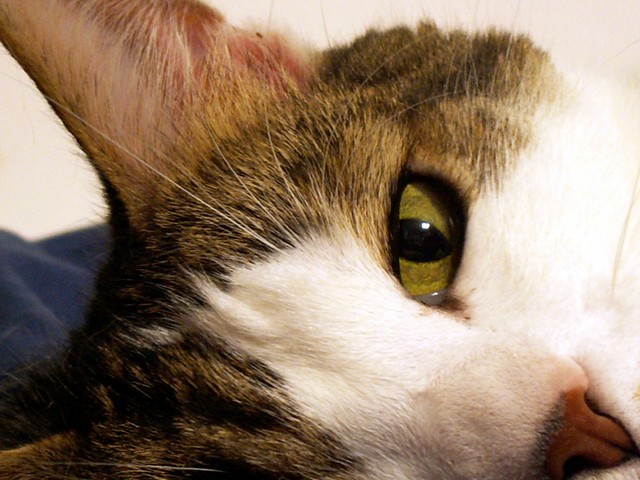 entrelac at 1:37 AM :: |


Sunday, April 17, 2005

Brief update: Baby kimono - body pieces are done, one sleve finished tonight. Second sleeve will likely be finished tomorrow. Stash-buster wrap - first skein already done, based on the size of the piece of fabric after that one ball, the wrap is going to be about 24 inches wide by 6.5 to 7 feet long. Excellent. Wavy's been languishing because the kimono has had all of my attention lately. Except for a bit of laceweight mohair spinning lately. Sylviatx, I don't know if you read my blog, but if you do...how many grams of this stuff did you want? 50? I'm working on it but it's slow going.

Photos of WIPs and random photograph-ish stuff forthcoming. Really.

entrelac at 2:38 AM :: |


Sunday, April 10, 2005

Serious stash-busting in planning stages, about to start on it though I really ought to wait until I've at least fininshed one of the two things in my purse. Nah.

Will be making a stole/wrap kind of thing for my bestest buddy Renee out of some Lion Brand Chenille that I've had languishing in my stash for -- no kidding -- more than 12 years.

Photos will be posted eventually.

entrelac at 2:25 PM :: |


Wednesday, April 06, 2005

Stash... Sorry, I'm not going to detail it out like so many others have. That would take HOURS that I don't have. So the images will go as is.

Zone 1: the lovely lovely antique barrister's bookcase that Will's grandparents gifted us (and I claimed to hold my stash).
The top shelf holds, to the best of my memory and from left to right: approx 4000 yds of fingering weight Robert Kidd wool/silk; some kelly green 100% cotton from Wendy Zibibbo destined for Clauie; some cloudy grey cotton tape stuff (looks like cut-up t-shirt fabric); some undyed/unbleached 100% cotton novelty-ish Valentina Devine yarn; way too much Brown Sheep Cotton Fleece in color Antique (being used for Angelina); even more Brown Sheep Cotton Fleece in color Navy; Tahki Cotton Classic in an Indian Red color.
The second shelf holds: Several different sock yarns including Froelich Blauband, Regia, Sockotta, Cherry Tree Hill, and others; some crochet cottons, sizes between 10 and 30, in both white and off-white; a hank or two of Manos del Uruguay in Raspberry (rest in a UFO in a bag); Sirdar Cariba very old cotton/nylon blend in red/white and black/white; Debbie Bliss Cotton/wool in cream and beige; hanks of Italian cabled cotton from Wendy.
The third shelf holds: Palanca Farms pima/merino sock yarn; Missoni Bombay and Missoni...something else; more Manos del Uruguay in Raspberry; red cotton from the sale bin of Desert Designs in Addison; Brown Sheep Naturespun worsted and superwash bulky; Bernat Muskoki superwash wool in deep plum; one skein of handspun Koolaid-dyed.
The fourth shelf holds: A bag to be felted knitted from navy heathered handspun; odds n ends of feltable wool in greys and browns to become a Pi bed for Crackie when/if ever I finish it.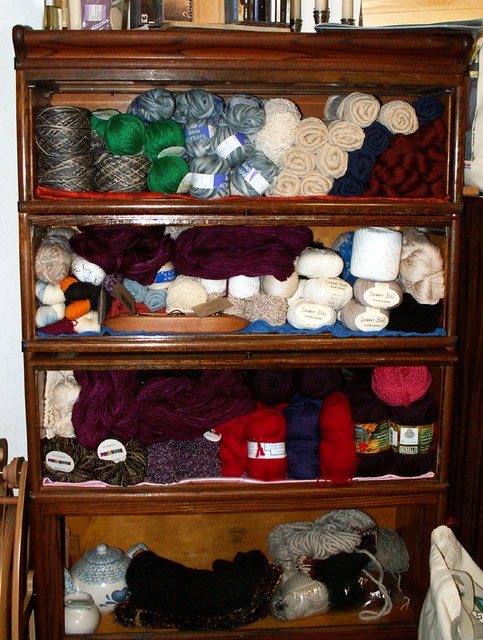 Zone 2: The industrial metal rack. The plastic bins on the shelves are set two deep, the inner row not visible in this image.

Top shelf: Mostly non-knitting/spinning stuff. Only things of note are two bags of 1 to 2 lbs of plain wool to be spun.

Second shelf: (hidden row) one box of fingering/lace weight alpaca in dark brown and charcoal grey. Moth-eaten and pieced apart. A real mess; one box of acrylic odds n ends including some Wool Ease Thick-n-Quick; one box of Red Heart in grey heather and grey/white ragg and a crocheted afghan-in-progress; one box of medium blue Berroco chinchilla with a UFO still on needles. (front row) one box of wool and mohair to spin; one box of Bernat blue Camoflauge; sack of scoured mohair locks from Will's grandfather; box of odds-n-ends, mosly sewing related; one ball of purple size 10 cotton crochet thread; one 850 gram cone of 3000 yds/lb laceweight linen thread; a 1lb ball of HOT pink superwash wool roving; an 8 ounce bag of coopworth wool roving; one pair of Birkenstock footbeds and soles to have knitted/felted uppers sewn on; one bag of raw alpaca fleece, unsure of weight.

Third shelf: (hidden row) box of grey heather Red Heart to complete afghan-in-progress. (front row) box of Red Heart Soft in several colors; box Cotton Fleece in Antique and Navy; Tahki Cotton Classic in Indigo; wools for two booga bags, gifts to Ceci and me from Renee; bag of dark olive and bag of lt. celery green Red Heart Soft; loose balls/skeins of handspun wool/mohair, hot pink Wool Ease, black Wool Ease, gold Cotton Fleece, cone of Sugar n Cream cotton, red Coats TLC, grey Red Heart, pink sock weight wool (actually Ceci's, ended up on my shelf); box of acrylic odds-n-ends and Red Heard Lustersheen for baby Kimono WIP; box of Bernat crafter cotton in dalmation spotted white, neon green Lion Brand Microspun, others.

Under third shelf: Bag of roving to be spun on Wobble spindle, FO handspun ski-type hat; sock yarns and 4 oz. bag of soy silk roving to be spun.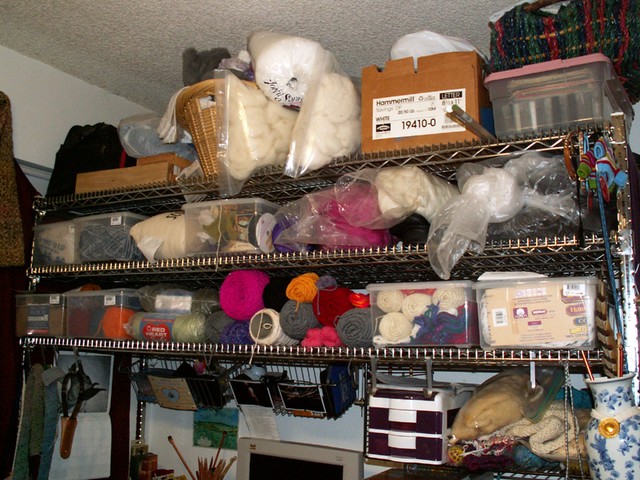 Zone 2A: drawer of desk containing odds-n-ends of acrylic, cotton, handspun wool, handspun mohair, tatting supplies, bead knitting threads and needles, others.
Zone 2B: desk and knitting stand with box of rainbow acrylics to become entrelac blanket; bag of light blue mohair roving from Monkee with Greensleeves drop spindle; inside stand several balls of Wool Ease Thick n Quick; on desktop a bag of 18 ounces of reddish merino wool roving from New Zealand.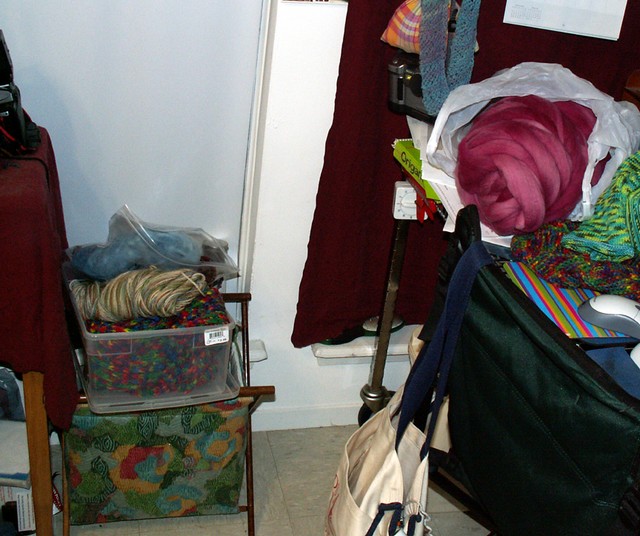 Leftovers and FOs: top of the dresser has mostly finished garments and several completed garments piled together; box of finished hats/scarves/etc; box of odds-n-ends from a swap, mostly cottons, some of Ceci's Australian superwash merino.
Zone 3: Under the bed.

Left underbed box: Grandma on the Mountain Aran wool (scratchy bulletproof stuff); green Lane Borgoi..uh, however that's spelled; more odds-n-ends; Red Heart Grande.

Right underbed box: Lion Brand Homespun in darkdark green; navy with colored speckles(ripped from a storebought sweater); more odds-n-ends; blue eBay yarn cotton blend.

I'm sure there's more someone that I missed, but that's enough for now, isn't it?