Links
Renee's Blog
Knitty Magazine
Knitty Coffeeshop
White Lies Designs
Bluebonnet Yarn Shoppe
Poetangel922
Feel free to take a button.

Complete Photo Gallery

Steenking Badges
Archives
August 2004
September 2004
October 2004
November 2004
December 2004
January 2005
February 2005
March 2005
April 2005
May 2005
June 2005
July 2005
August 2005
September 2005
October 2005
November 2005
December 2005
January 2006
March 2006
April 2006
May 2006
June 2006
July 2006
August 2006
September 2006
October 2006
November 2006
January 2007
February 2007
March 2007
April 2007
May 2007
June 2007
July 2007
August 2007
September 2007
October 2007
November 2007
December 2007
January 2008
February 2008
March 2008
April 2008
May 2008
June 2008
August 2008
September 2008
December 2008
February 2009
Site Feed
WIPs
for Mamash
for me
For Lori
FOs
Bluegreen Cowl for Conti
Blue HDC Gianna Hat
Gatorgreen Brent Hat
Easter Bunny Barf Stole
Abuelita's shawl
Crocheted Fingerless Mitts
RedStone Burnished laceweight
RedBlue Woobie
Blue&Brown Monkeyshirt
Chanel Gianna jacket
Autumn Shawlette for Mary
Pink/Blue VLT Scarf
Groverpeel Kite Tail
Gail's Christmas Stocking
Mamash's Jaywalker Stole
Ceci's Christmas Stocking
Lace Insanity
Sophia Elizabethan costume
jackolantern treat bag
Crocheted tentbag
Bucks Bar Handspun
Stitch Markers
Bloo Steering Wheel Cover
Brent Carseat Strap Cozies
Mickie's Socks
Robin Froofy Butt Scarf
Finger First Gloves
Crackie Pi Bed
Garter Martyr
Squareout Blanket
Pink Merino Handspun
Lace Prototype
Playdough handspun
Tick Tank v2.0
Shell pink handspun
Bluefaced Leicester handspun
Gauntlets
100% mohair handspun
Laceweight wool handspun
Wavy
Kimono Pants
Booga Bag
Hot pink superwash handspun
Sky blue mohair handspun
Lustersheen Kimono
Palanca Handspun
Domino Potholder
Moebius Red Scarf
NZG Capelet
NZG Hat
Green/Gold Lumay Scarf
Clauie Eyelash Scarf
Red Top Down Hat
Scribble Lace Scarf
Navy Blue Scarf&Hat
Abuelita Scarf
Leather Wallet
Panda Stitch Markers

Friday, September 28, 2007
Okay, now I KNOW the world is going to end. I'm posting for Yarn Porn Friday....AND Ceci is posting about a finished knitting project. Anyway, without further ado, photos.

Yarn: Zen String Esquire, 100% British merino roving, hand spun to (hopefully) worsted weight.
I've not set the twist or measured the yardage/WPI/etc yet, so no details. Just pictures.



And that's it. No blather. Just photos.
entrelac at 3:34 PM :: |


Tuesday, September 25, 2007
Photos? *faints*
Knitting: Some projects have been moving faster than others.
This is a scarf I'm working on from

Victorian Lace Today

, using some really pretty pink/blue cashmere yarn sent to me by Gundel. This one's shown the most progress in the past week, the 'body' of the scarf having doubled in length. I'm going to keep working on it, I might even finish it before 2010!
This snazzy little number -- well, not so little anymore -- is my Jaywalker Stole, thus named because I pulled the chevron design from the sock pattern and am using it to make this stole. I'm about halfway through skein 4 of 5, with most of skein 4's progress having been knitted during the Sunday afternoon knitting group. It just grows really fast when I actually work on it. Sadly, it's at the point in size where it's no longer easy to carry. Which, coincidentally, makes it even better to work on at work. ;)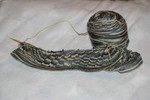 Here is how LITTLE progress I've made on Serrano. Told you. And a closeup photo of the Autumn colored shawlette thing, to show how prettily the colors are starting to fall. Mary, for an "oops" skein, this thing's PRETTY. :)

Spinning: I have only one thing to show off for now, but it's a pretty one. :)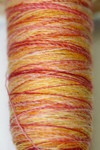 These three pretty pictures are from the (hopefully) laceweight handspun I've been working on everywhere (including the Def Leppard concert). I just love the way the colors stacked on each other against the cutouts in the whorl of my superlight super fast spindle. It makes me happy. Angelina asked me to spin up some handpainted yarn for her at a worsted weight, and for once I took her up on that. She gave me the roving to spin, and some more roving as payment (woohoo!). I'll have photos of that soon. I've already finished spinning the singles for the first batch. Went much faster than I'd expected.

Stitch markers: I'm working on photoediting as much as time and motivation allows. I hope to have lots of new stuff appearing by the beginning of October. And maybe I'll finaly develop a system so I don't end up having to edit 200 photos in one sitting again. Pfeh.

Okay, until later. I gotta get some sleep now.

entrelac at 1:07 AM :: |


Monday, September 17, 2007

Cover your ears if you're sensitive to loud noises...


SQUEEEE!!!


Okay, I'm done now. Here's what I mean, though, I mean LOOK at this!!




And more photos here, all clickable thumbnails: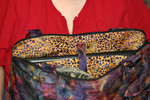 Can we say HOLY CRAP!? Y'all, I can't say enough good stuff about this Etsy seller! Go look at her store! Quick like a bunny! Eeee! :D

entrelac at 11:32 PM :: |


Saturday, September 15, 2007

Yup, my monthly blogpost. I'm not even going to try and say that I'll be posting more often. Either I will or I won't. We'll see. Anyway. I was hoping to have photos galore of everything for y'all, but I can't remember where I left my CF card reader for my camera, so either I retake photos of everything with my phone (phooey) or I make y'all wait longer. I'm opting for the latter, because I'm one of the pickiest people about photos and I'd feel bad subjecting y'all to subpar images when I HAVE better already waiting. Oh well.

Knitting: The monster Jaywalker stole is now on ball 4 of 5...is that...*gasp!* progress?? Heavens no, that can't be true. I don't ever finish anything. ;) The lace scarves and things are also all showing small signs of progress, but it's Serrano that's languishing the most. It's those 300+ stitch rows. They're killers, and I hate putting it down in the middle of a row because my chances of messing it up go WAY up when I do.

Spinning: Again, wheel is packed away in its bag, for the next time I feel like spending a sleepless night. My wonderful little Woolly Designs super light wonder-spindle, however, has been a busy little bug. I'm spinning some rainbow DragonFibers majorly soft roving on it, and it's gone with me everywhere -- including the Def Leppard concert. But more on that later.

Stitch markers: I've been slacking on this front, shame on me. I have no good excuses, either. I have my laptop, I have photos of most everything. Note to self: get those darned photos cleaned up already. Okay.


Other: Ceci said I have photos of the Def Leppard concert. And I do. Click on the image here to go to the album where they're all stored. DISCLAIMER: I took these with my phone because I knew that there was NO way I'd get my DSLR with its telephoto lens past security. I didn't even try. And in case you're wondering why I took so many...well, both of my friends Renee and Deana couldn't go and both of them were really bummed about it. So I took as many pictures as I could so they could at least see a bit of the concert themselves. :) D and R, missed you guys there, it wasn't the same. Next time!