Links
Renee's Blog
Knitty Magazine
Knitty Coffeeshop
White Lies Designs
Bluebonnet Yarn Shoppe
Poetangel922
Feel free to take a button.

Complete Photo Gallery

Steenking Badges
Archives
August 2004
September 2004
October 2004
November 2004
December 2004
January 2005
February 2005
March 2005
April 2005
May 2005
June 2005
July 2005
August 2005
September 2005
October 2005
November 2005
December 2005
January 2006
March 2006
April 2006
May 2006
June 2006
July 2006
August 2006
September 2006
October 2006
November 2006
January 2007
February 2007
March 2007
April 2007
May 2007
June 2007
July 2007
August 2007
September 2007
October 2007
November 2007
December 2007
January 2008
February 2008
March 2008
April 2008
May 2008
June 2008
August 2008
September 2008
December 2008
February 2009
Site Feed
WIPs
for Mamash
for me
For Lori
FOs
Bluegreen Cowl for Conti
Blue HDC Gianna Hat
Gatorgreen Brent Hat
Easter Bunny Barf Stole
Abuelita's shawl
Crocheted Fingerless Mitts
RedStone Burnished laceweight
RedBlue Woobie
Blue&Brown Monkeyshirt
Chanel Gianna jacket
Autumn Shawlette for Mary
Pink/Blue VLT Scarf
Groverpeel Kite Tail
Gail's Christmas Stocking
Mamash's Jaywalker Stole
Ceci's Christmas Stocking
Lace Insanity
Sophia Elizabethan costume
jackolantern treat bag
Crocheted tentbag
Bucks Bar Handspun
Stitch Markers
Bloo Steering Wheel Cover
Brent Carseat Strap Cozies
Mickie's Socks
Robin Froofy Butt Scarf
Finger First Gloves
Crackie Pi Bed
Garter Martyr
Squareout Blanket
Pink Merino Handspun
Lace Prototype
Playdough handspun
Tick Tank v2.0
Shell pink handspun
Bluefaced Leicester handspun
Gauntlets
100% mohair handspun
Laceweight wool handspun
Wavy
Kimono Pants
Booga Bag
Hot pink superwash handspun
Sky blue mohair handspun
Lustersheen Kimono
Palanca Handspun
Domino Potholder
Moebius Red Scarf
NZG Capelet
NZG Hat
Green/Gold Lumay Scarf
Clauie Eyelash Scarf
Red Top Down Hat
Scribble Lace Scarf
Navy Blue Scarf&Hat
Abuelita Scarf
Leather Wallet
Panda Stitch Markers

Monday, May 30, 2005
I think my Haloscan comments system is having a mental breakdown. I haven't seen any new comments in days, and the comment I just posted myself to test disappeared faster than Tyler's dinner. So I apologize if I've not replied to anyone, it's unintentional. Really. Email me or send me a PM on the Knitty board if you need to reach me for anything.

Knitting content: Wavy is starting to move along again, mostly because I want to see it done and GONE. Not sure where it's going, though. I do know it's NOT cold enough here in Texas to wear it, regardless of how cool the pattern is. And it would be a shame to just add it to the pile of too-many-hats-and-scarves that Ceci and I already have.

Spinning: Filled up a spindle today with some of my oldest regular schmegular wool, spun to a variable lace weight. I think I actually figured out how to do that long draft thing on my own. I've been inchworm drafting for forever, and what I started doing -- if I made sure not to let the fibers go too thin and snap -- seemed faster and more even. The real test will come when I ply the stuff.
entrelac at 1:46 AM :: |


Wednesday, May 25, 2005

Okay. Blog buttons.

Josie Weiss, here is yours:




DonnaSC, here is yours:




Opinions, please. And be honest. Don't say you like them just because.

entrelac at 12:17 AM :: |


Tuesday, May 24, 2005

Here's the booga bag I knitted up in a few days last week. I went to take this photo, and Reese stepped in at the perfect moment. I thought it was so funny I had to keep it. Bag will get thrown in the laundry soon enough, and then I'll have a post felting photo to offer up. Reese's face optional.


entrelac at 12:36 PM :: |


Sunday, May 22, 2005

Made some changes to the WIP bars and UFOs list. Added to the FOs list: The hot pink superwash wool is completely spun up and ready for Ceci to knit something with it. Also, I noted the 12 grams of sky blue lace weight mohair I spun up and sent to Sylvia. Changed UFOs and rework to Frogpond, as I'm officially giving up on those projects and sending them back to the ball winder.

More changes to come soon, hopefully. Josie, Donna, I read your blogs but you don't have buttons. Do you mind if I make buttons for you? :) I'll email you or something so you can take a look see at what I've come up with.

No photos again today, sorry.

entrelac at 11:47 PM :: |


Tuesday, May 17, 2005

Ready for a melba toast post?

Knitting: Got some instant gratification knitting done, started and finished a booga bag with the lovely lovely wool and novelty yarn given to me for Christmas by Renee. It's currently waiting for me to take photos before getting thrown into the wash to felt. Finished the first half of the pants that go along with the kimono for Tick....I'd not been planning on making the pants because...well, I hadn't. But Ceci said please so I'm a little over half done. Wavy has about an inch more than it did last time I mentioned it, I'm not going to bother with a photo right now. Entrelac blanket will be going to Renee to finish, as she's a lightning fast knitter, and asked for something to work on. Nefarious secret plans progressing very slowly due to waning interest.

Crocheting: Chenille wrap taking a break, it was making my wrist ache and fingers tingle.

Spinning: Finished 12 grams of laceweight mohair for Sylvia, she got it in the mail over the weekend. I'm probably going to try to spin the rest on Joy, the drop spindle was starting to suffer from being dropped so many times. Pink superwash on Joy currently, haven't done anything for a few days as I've been too busy doing laundry and what not to stop and set up the wheel and make it worth the time.

Work: eh. Need I say more?

Taught another friend to knit over the weekend. He wanted a hat just like one he saw on a particular TV show and expressed interest in learning after I explained how much I'd charge if I made it for him. *evil grin* Originally, he and his wife were both going to learn, but she opted out for a few reasons. She's an excellent artist and had a commission she had to work on as well as the fact that she already had way too many hobbies. Boy do I resemble that. Anyway. He picked up the mechanics very fast and by the time the two hours were done, he had his first ever swatch of garter and was really excited about it. Best part: with zero prompting whatsoever, he picked up the yarn and started knitting English just like I do.

Returning knitter Amy is really excited about recreating her beloved storebought sweater that did not survive being HAND washed. (have I mentioned that I hate ramie?) She chose Cotton Classic as a replacement and is knitting a gauge swatch in stockingette, but is having problems with purling. She knits continental, and purling is proving to be a real strain on her hands. Next time we hang out, I'm going to try and show her combination, see if that helps her out.

Plans for this coming weekend include: Much moving of furniture to clear the LAST room that is getting new flooring. When it's done, it's DONE. I can't wait.

I will offer up more photos after work. Maybe I'll try to make clickable thumbnail images, too. Yeah, right.

entrelac at 4:18 PM :: |


Wednesday, May 04, 2005

For Book Lovers.....I got roped into a chain-letter kinda thing.

But I don't mind. If Ceci could type hers up with a smashed finger, I have no room to complain, do I?

1. Total Number of Books in Your House:
Ditto what Ceci said -- shelf after shelf full. (We ARE in the same house, after all.) We could probably stock a small bookstore just with the paperbacks.

2. The Last Book You Bought Was:
Do magazines count? I can't really remember the last BOOK book. I've also been eyeballing some non-knitting based books....can't go into details, nefarious plans involved with those books.


3. What did you last read right before getting tagged?
Ooh, I don't remember. It's been a while. Maybe a set of dragonlance books borrowed from my brother....or was it Kevin and Janet? Yeesh, I can't remember.

4. Write down 5 (or 6) books you often read, or that mean a lot to you.

A) I like to go back and reread Heinlen's "Have Spacesuit Will Travel" from time to time. It's a good story.

B) I'd name any of a dozen knitting books here, but none of them are really READING material, mostly browsing and pattern/idea/inspiration-searching.

C) A few of the old Star Trek novels: Ishmael, Uhura's Song, and The Entropy Effect are the three that come to mind immediately.

D) The Stephen Hawking books my dad bought for me. I'm not done reading them honestly, because they're BRAIN books, but I read a little at a time then stop for a while to 'grok' the information.

E) Many various DragonLance books. I'm a big fan of kender. ;)

5. Who are you going to pass the stick to (three people) and why?
Ugh. Difficult question. I think I'll cross post this to my LiveJournal account and tag three of my friends there to avoid tagging a knitting buddy who's already done this. I choose Ellen(Greyangel), Phoenix(Druidsfire), and Andric. Just because they're the only names I can think of right this moment without my LiveJournal open.

entrelac at 8:59 PM :: |


Sunday, May 01, 2005

Okay, so this was faster than the average fortnight. An incomplete set of images for the Fiber Flash. My camera's batteries died before I could photograph all of the undyed stuff, and they're still in the charger. On to the images!

First, 18 ounces of 19 micron New Zealand merino, in a ruby colorway. In retrospect, the reddish background -- while cute with all the spinning wheels -- wasn't the best for this yarn.

Next, the lovely sky blue mohair that Monkee gave me and I'm spinning a smidgen of to send to Sylviatx. For reference, the spindle in the photo has a whorl that is 2 1/8 inches in diameter (I just measured it).
Last but first on my wheel, the hot pink superwash wool that Joeli and midge have been coveting, but Ceci vehemently claims first dibs on, including the two skeins of yarn I've already spun.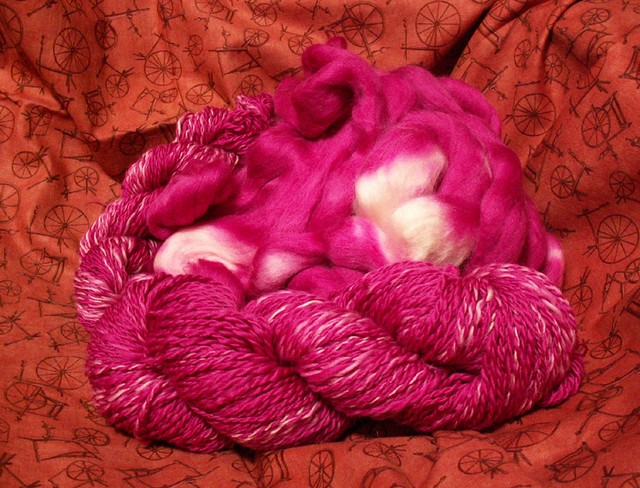 Everything else is undyed wool or mohair or soy silk. I'll get photos of those when I can. Speaking of photos, does anyone know how to do that nifty thumbnails thing so I can stop killing dialup bandwidth?

entrelac at 11:57 PM :: |




Sorry, no new photos today. You'll have to wait another Texas fortnight. ;)

Update on the birdnest: I went around outside to check on it as I'd heard a different birdsong from the momma-chirping I'd become used to, and I scared the daddy-bird out of the bush. He's the one that's been singing lately and he was red, so it's confirmed that it's a family of cardinals. After he left I could still hear teeny tiny high-pitched cheeps from the nest -- BABIES! So I quickly left again to make sure I didn't permanently scare the parents away. I'm gonna have to torture them with the camera again eventually. But not today. I want to give them time to relax again.

On the knitting front: Progress on the pants to match the kimono slow but steady. Wavy's still at a standstill because I'm making those baby clothes. Angelina is languishing for the same reason...and the fact that it's mind-numbingly boring 2x2 ribbing FOREVER. The crocheted wrap hasn't been touched in a few days either, but I think that's more my hand bothering me than lack of interst.

Spinning: I have almost filled up my cocobolo spindle with the laceweight mohair for Sylviatx, but I still can't tell how much it weighs. My little scale still shows the spindle with thread to be under 2 ounces, and that was my goal since I couldn't remember the spindle's empty weight. I guess I'll keep going until the spindle can't hold anymore and call that good. Have been "testing" that new WooLee Winder on my Joy, and I must say that I LOVE it. I'm already about a fourth of the way done spinning the pink superwash wool I have. And that's FAST for me. Next up after the pink...hm. Choices. Probably some of my older wools or the mohair finally now that I'm feeling more confident about my spinning skills.

New knitter news! Seeing my spun yarn and the baby kimono finished finally convinced Will's sister Kate to try her hand at the knitting thing. So I started teaching her on the way home from Will's parents house at Lake Buchanan (about an hour drive), and by the time we were back in Austin, she'd knitted up a good looking 2 inch swatch of garter stitch! No holes, no dropped stitches, no unintentional increases or decreases(okay, a bit of funk in the cast on and some overly loose stitches, but eh)...she's trucking along effortlessly! She's already determined that that first little swatch is the beginning of a long and skinny scarf and is really excited about it. Woohoo! Oh, and we made up a new (and laughably violent) way to explain the knitting motions: Stab 'em, choke 'em, drag 'em back, knock 'em off. I don't know why, but it made us all snicker the whole way home. (poor Will, having to put up with all three of us.) Maybe with THREE knitters in the house my stash will start showing signs of dwindling so we can go buy more! ;)