Links
Renee's Blog
Knitty Magazine
Knitty Coffeeshop
White Lies Designs
Bluebonnet Yarn Shoppe
Poetangel922
Feel free to take a button.

Complete Photo Gallery

Steenking Badges
Archives
August 2004
September 2004
October 2004
November 2004
December 2004
January 2005
February 2005
March 2005
April 2005
May 2005
June 2005
July 2005
August 2005
September 2005
October 2005
November 2005
December 2005
January 2006
March 2006
April 2006
May 2006
June 2006
July 2006
August 2006
September 2006
October 2006
November 2006
January 2007
February 2007
March 2007
April 2007
May 2007
June 2007
July 2007
August 2007
September 2007
October 2007
November 2007
December 2007
January 2008
February 2008
March 2008
April 2008
May 2008
June 2008
August 2008
September 2008
December 2008
February 2009
Site Feed
WIPs
for Mamash
for me
For Lori
FOs
Bluegreen Cowl for Conti
Blue HDC Gianna Hat
Gatorgreen Brent Hat
Easter Bunny Barf Stole
Abuelita's shawl
Crocheted Fingerless Mitts
RedStone Burnished laceweight
RedBlue Woobie
Blue&Brown Monkeyshirt
Chanel Gianna jacket
Autumn Shawlette for Mary
Pink/Blue VLT Scarf
Groverpeel Kite Tail
Gail's Christmas Stocking
Mamash's Jaywalker Stole
Ceci's Christmas Stocking
Lace Insanity
Sophia Elizabethan costume
jackolantern treat bag
Crocheted tentbag
Bucks Bar Handspun
Stitch Markers
Bloo Steering Wheel Cover
Brent Carseat Strap Cozies
Mickie's Socks
Robin Froofy Butt Scarf
Finger First Gloves
Crackie Pi Bed
Garter Martyr
Squareout Blanket
Pink Merino Handspun
Lace Prototype
Playdough handspun
Tick Tank v2.0
Shell pink handspun
Bluefaced Leicester handspun
Gauntlets
100% mohair handspun
Laceweight wool handspun
Wavy
Kimono Pants
Booga Bag
Hot pink superwash handspun
Sky blue mohair handspun
Lustersheen Kimono
Palanca Handspun
Domino Potholder
Moebius Red Scarf
NZG Capelet
NZG Hat
Green/Gold Lumay Scarf
Clauie Eyelash Scarf
Red Top Down Hat
Scribble Lace Scarf
Navy Blue Scarf&Hat
Abuelita Scarf
Leather Wallet
Panda Stitch Markers

Friday, March 31, 2006
More of the same. Yawn. There WILL be much photoage soon, though, as I'm part of the 2006 Flash Your Stash. I ended up with fewer pictures than I had anticipated (lack of time to get non-blurry images) and I really don't feel like trying again some more. I will, however, offer a sneak preview or two. Of the stash, and of something else in the works.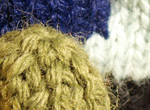 The something else will hopefully appear in The Garter Belt eventually....but in nicer colors.
entrelac at 2:17 AM :: |


Tuesday, March 14, 2006

Le sigh. All of February come and gone and what do I have to show for it? (I might add photos later, but don't hold your breath.)

Vebjorg: Resting again. Those cables KILL my hands, as lovely as they are.

Garter Martyr: Almost done with triange #3 in the center panel. I'm nearing the home stretch. Need to rewrite the directions I've drafted so far, I know they're wrong.

Kitty Pi Bed: It's becoming unwieldy it's so big now. I'm thinking of binding it off and leaving it as is, however it ends up.

Prototype v2.0: Neckline has been figured out. That was the single biggest hurdle of the rewrite. Now to get some more knitted on it so it starts to look like something coherent.

Non-knitting: Went to the Zilker Kite Festival. Very fun, not enough wind to fly any kites though. See Ceci's blog for the details. She took most of the photos, so she got to blog about it. Other than that, a whole lot of the same old.