Links
Renee's Blog
Knitty Magazine
Knitty Coffeeshop
White Lies Designs
Bluebonnet Yarn Shoppe
Poetangel922
Feel free to take a button.

Complete Photo Gallery

Steenking Badges
Archives
August 2004
September 2004
October 2004
November 2004
December 2004
January 2005
February 2005
March 2005
April 2005
May 2005
June 2005
July 2005
August 2005
September 2005
October 2005
November 2005
December 2005
January 2006
March 2006
April 2006
May 2006
June 2006
July 2006
August 2006
September 2006
October 2006
November 2006
January 2007
February 2007
March 2007
April 2007
May 2007
June 2007
July 2007
August 2007
September 2007
October 2007
November 2007
December 2007
January 2008
February 2008
March 2008
April 2008
May 2008
June 2008
August 2008
September 2008
December 2008
February 2009
Site Feed
WIPs
for Mamash
for me
For Lori
FOs
Bluegreen Cowl for Conti
Blue HDC Gianna Hat
Gatorgreen Brent Hat
Easter Bunny Barf Stole
Abuelita's shawl
Crocheted Fingerless Mitts
RedStone Burnished laceweight
RedBlue Woobie
Blue&Brown Monkeyshirt
Chanel Gianna jacket
Autumn Shawlette for Mary
Pink/Blue VLT Scarf
Groverpeel Kite Tail
Gail's Christmas Stocking
Mamash's Jaywalker Stole
Ceci's Christmas Stocking
Lace Insanity
Sophia Elizabethan costume
jackolantern treat bag
Crocheted tentbag
Bucks Bar Handspun
Stitch Markers
Bloo Steering Wheel Cover
Brent Carseat Strap Cozies
Mickie's Socks
Robin Froofy Butt Scarf
Finger First Gloves
Crackie Pi Bed
Garter Martyr
Squareout Blanket
Pink Merino Handspun
Lace Prototype
Playdough handspun
Tick Tank v2.0
Shell pink handspun
Bluefaced Leicester handspun
Gauntlets
100% mohair handspun
Laceweight wool handspun
Wavy
Kimono Pants
Booga Bag
Hot pink superwash handspun
Sky blue mohair handspun
Lustersheen Kimono
Palanca Handspun
Domino Potholder
Moebius Red Scarf
NZG Capelet
NZG Hat
Green/Gold Lumay Scarf
Clauie Eyelash Scarf
Red Top Down Hat
Scribble Lace Scarf
Navy Blue Scarf&Hat
Abuelita Scarf
Leather Wallet
Panda Stitch Markers

Thursday, September 11, 2008
You okay? You didn't faint and fall down and hurt yourself, did you? I hope not. Anyway. I've actually managed to get a couple of things done, surprise surprise. Photos follow.

Crochet: I bought two skeins of Berroco Comfort DK just for the heck of it, to see how I felt about the yarn. Survey says... it's SERIOUSLY nice stuff. Here's what I made from the two skeins: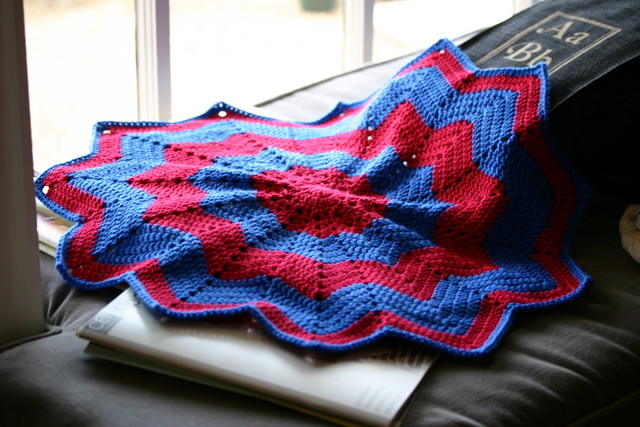 It's now a shop sample at Gauge, at least until some toddler latches onto it and won't let go. I can tell it's meant to be a woobie, and it's just waiting for the right kid.
Spinning: I FINALLY finished spinning up the burnished piece of the luxury sampler that
the Redhead
gave me in Estes Park. I wanted to maximize yardage, so I plied it with the plying silk I bought from Galina Khmeleva, also in Estes Park. Photos:
First, an in progress photo of the fiber on the spindle.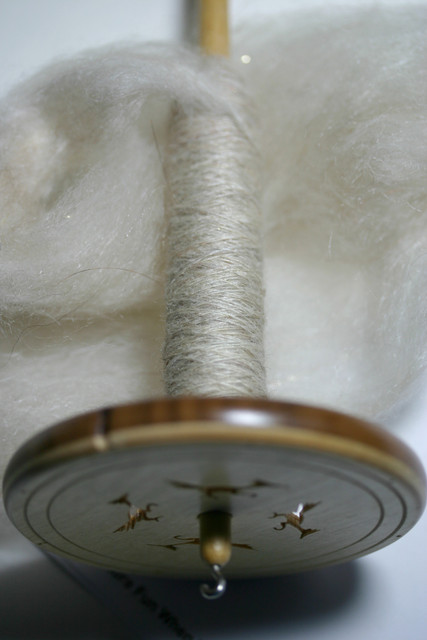 And now a photo of the finished yarn. Robin is going to set the twist on the yarn for me (I really need to learn to do it properly myself, but she's just so much better and faster at it than I am) and then send it up to the Redhead along with some other things.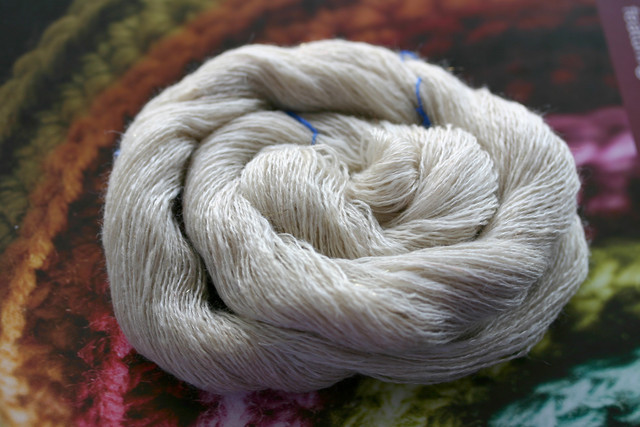 And a yarn pr0n closeup...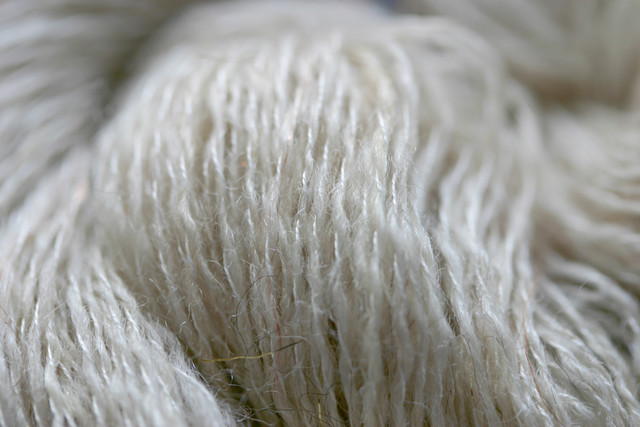 No knitting stuff to report, but I DID add some new stitch markers to my online store. That's it from me for now.