Links
Renee's Blog
Knitty Magazine
Knitty Coffeeshop
White Lies Designs
Bluebonnet Yarn Shoppe
Poetangel922
Feel free to take a button.

Complete Photo Gallery

Steenking Badges
Archives
August 2004
September 2004
October 2004
November 2004
December 2004
January 2005
February 2005
March 2005
April 2005
May 2005
June 2005
July 2005
August 2005
September 2005
October 2005
November 2005
December 2005
January 2006
March 2006
April 2006
May 2006
June 2006
July 2006
August 2006
September 2006
October 2006
November 2006
January 2007
February 2007
March 2007
April 2007
May 2007
June 2007
July 2007
August 2007
September 2007
October 2007
November 2007
December 2007
January 2008
February 2008
March 2008
April 2008
May 2008
June 2008
August 2008
September 2008
December 2008
February 2009
Site Feed
WIPs
for Mamash
for me
For Lori
FOs
Bluegreen Cowl for Conti
Blue HDC Gianna Hat
Gatorgreen Brent Hat
Easter Bunny Barf Stole
Abuelita's shawl
Crocheted Fingerless Mitts
RedStone Burnished laceweight
RedBlue Woobie
Blue&Brown Monkeyshirt
Chanel Gianna jacket
Autumn Shawlette for Mary
Pink/Blue VLT Scarf
Groverpeel Kite Tail
Gail's Christmas Stocking
Mamash's Jaywalker Stole
Ceci's Christmas Stocking
Lace Insanity
Sophia Elizabethan costume
jackolantern treat bag
Crocheted tentbag
Bucks Bar Handspun
Stitch Markers
Bloo Steering Wheel Cover
Brent Carseat Strap Cozies
Mickie's Socks
Robin Froofy Butt Scarf
Finger First Gloves
Crackie Pi Bed
Garter Martyr
Squareout Blanket
Pink Merino Handspun
Lace Prototype
Playdough handspun
Tick Tank v2.0
Shell pink handspun
Bluefaced Leicester handspun
Gauntlets
100% mohair handspun
Laceweight wool handspun
Wavy
Kimono Pants
Booga Bag
Hot pink superwash handspun
Sky blue mohair handspun
Lustersheen Kimono
Palanca Handspun
Domino Potholder
Moebius Red Scarf
NZG Capelet
NZG Hat
Green/Gold Lumay Scarf
Clauie Eyelash Scarf
Red Top Down Hat
Scribble Lace Scarf
Navy Blue Scarf&Hat
Abuelita Scarf
Leather Wallet
Panda Stitch Markers

Monday, February 02, 2009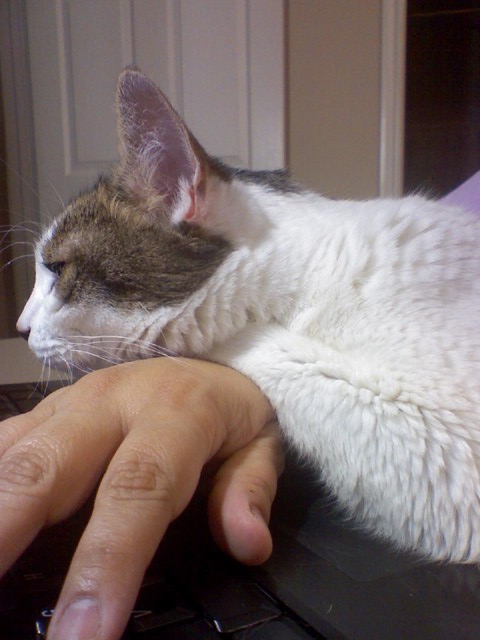 Apparently, my cat has decidedthat my typing requires his personal supervision. He has taken to laying across my arms when I'm at my laptop, making typing an...interesting challenge. So please pardon any typos you see in this post. I'm not making them on purpose. Honest.
Knitting: I actually feel like I accomplished something since Christmas. I finished ... let's see ... two cowls, a crocheted shawl, a bumblebee surprise jacket...I think that's more FOs than in the entire past year all together. Wow. In progress, I have Mamash's Orenburg lace shawl, a worsted weight BSJ, and a darkside cowl for myself. The Cap shawl got frogged, I did some mah and realized I have less than 1300 yards and the pattern calls for 1700. Oops. So now i'm in the market for a good, unique shawl pattern that takes about 1250 yards. Faroese would be fabulous, 3/4 circle or square would be really nice too. I have one good prospect, but I can't find my copy of
Big Girl Knits
. Darnit.
Crochet: Mamash's pentagon shawl is moving slowly but surely. And I'm feeling the hankering to start some other crocheted project. I really ought to. One just isn't enough to keep my interest. Hm. I'll have to see what projects call to me.
Spinning: The Falkland on my lace spindle is still moving along slowly slowly but steadily. I have two full bobbins of wool that Robin dyed for me, and enough roving to fill a third. I'm planning on a true three-ply. It's my biggest endeavor to date.
Stitch markers: After sending out a newletter asking my customers if they like the photos I've been putting up (collages of 4 different shots of each marker) or if just one photo would suffice. Taking only one photo of each marker would sure save me a LOT of time. Well, after a few replies saying "One is fine!" that's what Iv'e started doing. And it's starting to show in the amount of inventory I have online now. And I have still more to assemble, so my work isn't nearly complete.
And now, feline domination of my computer is complete. Have to stop typing now. This is what I'm up against: